Specialist systems integrator Abas (Automation Broadcasting Audio Security) has installed new loudspeaker systems for the play and spectator areas of the outdoor and indoor tennis courts at the exclusive Tatoï Club.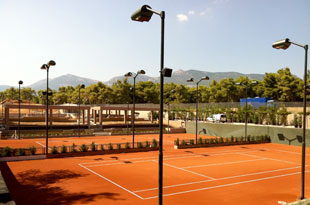 A short drive northeast of Athens, the club is regarded as one of the best tennis academies in Greece, and provides for the well-being of members with spa, beauty, swimming, physiotherapy and nutrition centres. The complex also houses indoor and outdoor restaurants, meeting and conference rooms.
All of the Tatoï Club tennis courts adhere to strict international guidelines for hosting tournaments of all sizes and levels, offering the best in training methods and amenities. Emphasis is given to on-court training and complete training support, which includes nutritional monitoring, regular ergometric exams as well as physiotherapy and medical support.
Athens-based Abas designed the club's audio systems around Ateïs network processors for compliance with EN-60849 standards. For the 18 tennis courts, Abas chose Community's two-way, horn-loaded, coaxial R.25 loudspeakers to meet the requirements for intelligibility and well-defined dispersion. The loudspeakers were additionally required to meet the all-weather needs of the application. Abas installed Monacor amplifiers to drive the Community loudspeakers.
'The Community R.25 stood out as the best solution for audio quality and intelligibility,' says Kostas Drosos from Abas. 'The system is mainly used for speech messages and music distribution and the main tennis courts are addressed individually, so pattern control was very important to minimise spill to adjacent courts.
'The R.25 is very compact and its availability in black made it aesthetically ideal for mounting on the black lighting poles of the courts. The R.25's extreme all-weather resistance and long-term reliability will also ensure the system will remain looking and sounding good.'