Owned and operated by producer/musician Jaime Gomez Arellano, Orgone Studios in the UK has recently installed an SSL AWS948 console.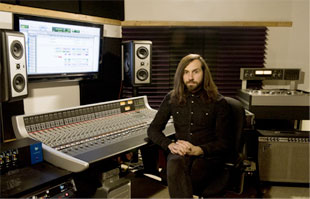 Supplied by KMR Audio, the console joins an extensive collection of equipment and instruments at the studio. Originating from Colombia, Arellano is a working drummer as well as currently producing a number of projects, including doom metal legends Cathedral who recorded their last album The Last Spire at the studio.
'I have used the AWS948 console before in Music 4 in Soho,' Arellano says. 'It's a beautiful desk. It works instantly with ProTools and the after sales support is amazing, especially from KMR Audio who are my sole supplier. I wouldn't buy gear from anyone else.'
Established among in heavy metal acts, Arellano has also worked with Plan B, The Buzzcocks' Steve Diggle, Ulver, Mellow Candle, Incredible Hog, (the original) Iron Maiden. and Ghost who's first album Opus Eponymous was nominated to Swedish Grammy award. In the pipeline is Twilight of the Gods – a heavy metal supergroup with members of Cradle of Filth, Mayhem and Primordial – and an EP for Finnish band Hexvessel whose last album (mixed and mastered by Gomez) was nominated for a Finnish Grammy award. Arellano has even produced albums for his mother who is a successful folk singer in Colombia.
Orgone Studios boasts some of the best modern and vintage equipment including classic microphones, Neve preamps, Lavry and Lynx converters, a Studer A80 tape machine and outboard units by Manley, Crane Song. Backline includes more than 15 amplifiers (including vintage classics by Marshal, Ampeg, Fender and Mesa Boogie). Recent additions include a 1960s Hammond C3 with Leslie 122 speaker. There also are four drum kits, including a John Bonham Ludwig Vista Lite reissue, Tama, Sonor and Gretsch as well as an array of guitars, basses and more than 100 effects pedals. Monitoring is via Barefoots MM27s also supplied by KMR.
More: www.orgonestudios.com
More: www.kmraudio.com
More: www.solidstatelogic.com