Guitar Center Professional (GC Pro) has been appointed exclusive US dealer for the Raven MTX Multi-Touch Production Console by Slate Pro Audio.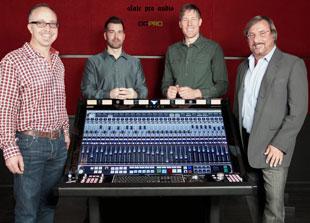 Introduced at the 2012 San Francisco AES Convention, the Raven MTX Multi-Touch Production Console combines a multi-touch monitor, multi-touch DAW control software and a digitally-controlled analogue monitor section. The console will be available through GC Pro's 43 nationwide locations, and eight selected locations will serve as product demo sites for the Raven MTX.
'GC Pro always strives to remain on the cutting edge,' says company VP, Rick Plushner. 'As many people know, my career was built on introducing winning recording and mixing consoles. With one brief demo of Raven I was convinced this is miles ahead of other manufacturers and is in sync with the needs of today's marketplace.
'At GC Pro, we carefully monitor customer's needs and their desires to improve workflow and creativity. It makes sense for us to do business with manufacturers who are driving the narrative while pushing boundaries with forward-thinking technologies,' he continues. 'Looking at other market sectors, it is clear to see that touchscreen control is not a passing fad, and that extends to the audio production market. The Raven MTX console, with its unique work surface, represents the next generation of recording consoles, and GC Pro is excited to be the exclusive dealer of such an innovative piece of equipment.'
The console features a 46-inch touchscreen that controls every aspect of the production process, from initial tracking to effects, EQ and final mix. The console's Raven Mixer software is a multi-touch mixer that can control all major DAWs, while the Raven Toolbar is reminiscent of features on current popular computing devices. The console facilitates quick navigation through any virtual production environment.
Raven's digitally-controlled analogue monitoring section allows plug-and-play integration, and features four speaker outputs, an eight-channel artist cue mix system, 7.1 surround capability and onboard Laptop Reference speakers, which Slate calls Betty.
'I've worked with GC Pro as a client since 1998, and have always had amazing service, support and advice when purchasing gear for my recording studios,' says Slate Pro Audio CEO, Steven Slate. 'Now, as CEO of Slate Pro Audio, I am happy to be working with GC Pro as the exclusive US dealer of our Raven MTX Production Console.
'Launching the Raven with GC Pro is a natural choice. This is a groundbreaking product that people are going to want to touch, and they'll be able to do that at many of GC Pro's 43 locations across the US. Being part of the Guitar Center Professional family instantly connects Slate Pro Audio with clientele ranging from high-end recording to postproduction to commercial facilities to houses of worship. And how cool is it that you can order a Raven from gcpro.com and have it delivered to your door? Every step of the way, GC Pro has shared our vision of the future of this industry – that makes them the ideal partner for the Raven.'