Demonstrating its support for its Asia business, the TC Group undertook a tour of its distributors in Vietnam, Hong Kong and the Philippines during January 2013.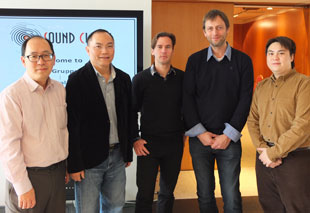 First up was new Vietnam distributor, Viet Thuong Trading Service Manufacturing Corporation, who welcomed AET VP Graham Hendry and Thomas Vestergaard Technical Sales Manager of TC Group International. The visitors offered product training on Tannoy and Lab.gruppen/Lake systems to give the local team a better insight into the products and their use. A day was also spent visiting some of the churches in Ho Chi Minh, where the TCG team offered advice on products for specific applications.
Miguel Hadelich (VP of International Sales of Install & Tour) joined the party in Hong Kong to meet tour distributor Sound Classy Holdings, as well as consultants, David King and Zane Au of Shen Milson & Wilke, and Ian Harris and Louis Chui of ihD Ltd. A Lab.gruppen/Lake product seminar was presented to system integrator, rental customer and hotel/casino operators in Macao.
In the Philippines JB Music has been the TC Group's tour distributor since 2010, and this was the second visit Vestergaard had made to provide training. Spread over two days, the first welcomed rental customers and the second was dedicated to Lab.gruppen E-series and C-series amplifier training for dealers and JB Music staff. JB Music also received hands-on training for the QFlex Digital Steerable Column Array Loudspeaker System and other Tannoy products.