The Brazilian Central Bank headquarters has completed the renovated two of its key conference auditoria, updating both audio and video systems. Located in the capital city of Brasilia's tallest building, the institution is responsible for the success of Brazilian economic policy, and the auditoria are used by leaders of Brazilian finance.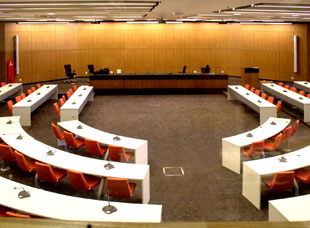 The two auditoria – Denio Nogueira and Octavio Gouvêa de Bulhões – underwent a complete refit that included contruction, décor and furnishing by Almeida França Engenharia, with audio, video, conference and automation systems installed by Soundvision Eng de Áudio e Vídeo.
The systems were conceived and designed by Soundvision Systems Manager Fernando Gargantini, Commercial Manager Leandro Freire and General Director Tadeu Torquato. Fernando Gargantini shared the project management with Systems Manager Ricardo Maraldi.
Entasys loudspeakers were used for the auditoria audio – the first installation of its type in Brazil to use Community Professional's flagship column-line-array systems. 'With just two slim columns on each side of the stage we could ensure a well-distributed, uniform and homogenous coverage of the acoustic space,' Fernando Gargantini explains. 'Offering great intelligibility with a compact, attractive appearance, Entasys has proved very popular with Brazilian architects while meeting the high standards of audio professionals.'
'Each Entasys enclosure is a high-efficiency, full-range column-line-array with power handling of 600W RMS,' Gargantini continues. 'In the case of the Octavio Gouvêa de Bulhões auditorium we have used six Entasys enclosures configured in two columns on each side of the stage, covering 120° horizontal by 6° vertical.'
In addition to the sound systems, both auditoria feature VGA and HDMI video streaming over HD Cat5, together with HD projection by Christie and Crestron automation. The Denio Nogueira auditorium also features a Bosch conference system. The automation control is handled via a 15-inch touchscreen monitor and two iPads, which can control the audio and video via Wi-Fi from anywhere in the auditoria. The systems provide the versatility and reliability that both auditoria need for both internal use and for presentations to the media.
'The Octavio Gouvêa de Bulhões system was first used for the official release to the media of the new 10 and 20 Reais Bills by the President of the Brazilian Central Bank and other senior officials, with the event broadcast on national television,' Gargantini concludes. 'This was a major event for the auditorium's inaugural use and the systems passed with distinction.'