Guitar Center Professional (GC Pro) has become a Certified US Dealer for Focusrite's RedNet, making the Professional Audio Networking System available through GC Pro's 43 store locations.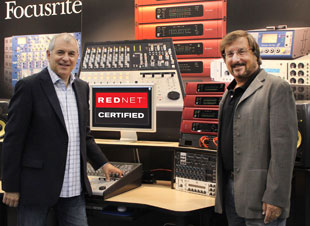 'We have had RedNet in development for some time now, and we're proud to bring it to market with GC Pro's help,' says Phil Wagner, President of Focusrite Novation. 'RedNet provides solutions that were otherwise not possible.'
'I've been monitoring the development of Focusrite's RedNet technology for several years and we are most excited to be representing this cutting-edge product,' says GC Pro Vice President, Rick Plushner. 'Our New York, Nashville and Hollywood offices will be equipped with demo systems while our entire nationwide staff will be trained to consult our client base on implementation within the recording process.'
'Focusrite chose GC Pro to sell RedNet in the US, based on their experience and the quality of their sales team,' Wagner adds. 'They have the ability to reach the markets that are appropriate for RedNet – recording, post-production, live sound and house-of-worship with our Dante-compatible, audio-over-IP-based solutions.'
RedNet is based on off-the-shelf managed Gigabit Ethernet switches and Cat-6 cabling. The system products include: RedNet 1 – eight-channel AD/DA; RedNet 2 – 16-channel AD/DA; RedNet 3 – 32 channel digital I/O; RedNet 4 – eight-channel remote gain control Mic Pre; RedNet 5 – 32 channel HD Bridge for ProTools HD; RedNet 6 is a newly-announced 64 channel Madi bridge; and RedNet PCIe – 128 channel I/O for native applications.
See also:
More: www.gcpro.com
More: www.focusrite.com