The latest cinema venue to offer the ArcLight Wide Screen auditorium concept has opened in La Jolla, California – featuring a 50-foot curved screen, 3D-capable 4K definition projection and Dolby Atmos audio reproduced through a Meyer Sound system based on the Acheron screen channel loudspeakers.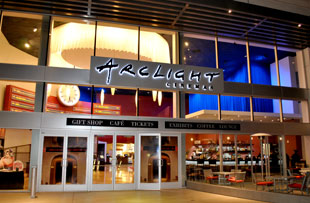 'At ArcLight we offer a wide variety of programming, ranging from the newest Hollywood blockbusters to art house films and cult favorites,' says Joe Miraglia, ArcLight Director of Design, Construction & Facilities. 'To introduce our Wide Screen concept, we selected Meyer Sound to power our Dolby Atmos auditorium to ensure that our guests will experience precise and realistic sound – exactly as the filmmakers intended.'
The Dolby Atmos format uses individually-addressed loudspeakers to place 'audio objects' in a three-dimensional space. In ArcLight's Wide Screen auditorium, five Meyer Sound Acheron 100 screen channel loudspeakers are placed behind the screen, with low-frequency supplied by six X-800C cinema subwoofers. A total of 30 HMS-10 cinema surround loudspeakers mounted on the walls and overhead provide precise positional imaging, with dual 500-HP subwoofers supplying bass management for the surround channels. The system is governed by a Meyer Sound Galileo loudspeaker management system with two Galileo 616 processors.
The auditorium's sound and projection systems were supplied by ACS Enterprises, with company CEO, Jose Alvarado, consulting with Meyer Sound on the audio installation: 'As today's motion pictures transition from surround sound to more dynamic object-based reproduction, it is important that auditoriums are equipped to provide an experience available only in theatres,' says Alvarado. 'Selecting a Meyer Sound system achieves that goal.'
Seating around 400 people, the new auditorium also features a Christie CP4230 4K digital projector and XPAND 3D capability. Along with the Wide Screen auditorium, the complex offers 14 screens and has a total seating capacity of 1,800. The La Jolla opening marks the fifth location for ArcLight Cinemas, a division of Pacific Theatres owned and operated by the Decurion Corporation.
More: www.meyersound.com
More: www.dolby.com
More: www.acs-ent.com
More: www.arclightcinemas.com