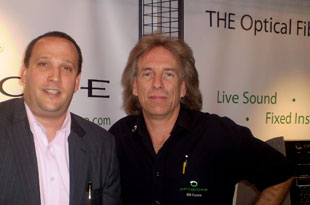 The portfolio of lines managed in Australia by new company Professional Audio Technology (PAT) continues to grow – now with the addition of Optocore.
'The Optocore acquisition will create a perfect synergy with the other industry leading brands represented by PAT, says MD Patrick Salloch. 'The products have been very well received in Australia so far, now it is our job to educate the market further about Optocore, and the solutions it can provide.'
With a growing requirement for networked audio solutions in Australia's broadcast and live sectors, the appointment of the Sydney-based operation takes immediate effect. 'I feel we have found the perfect partner in Australia,' adds Optocore Sales and Marketing Director, Tine Helmle. 'PAT will concentrate its activities on Optocore's core markets, namely broadcast, install and live sound.
'The Optocore products bridge the gap between various high-end manufacturers when it comes to having a rock-solid and reliable network for audio, video and data,' says Salloch. 'In addition, Optocore provides solutions in the architecture of high-end broadcast and/or pro audio systems that hadn't previously been addressed by other manufacturers – they have excelled in the field of distribution networking to become the world leader. Australia has always been a trailblazer when it comes to adopting new technologies and pushing the envelope that bit further than the rest of the world, and I am certain we will continue to run into open doors with broadcasters and high-end production companies with Optocore.