The first 3D-capable HD OB in its fleet, Irish OB specialist Television Mobiles Ltd (TVM) has commissioned a 30-camera truck with of 1080/60p monitoring.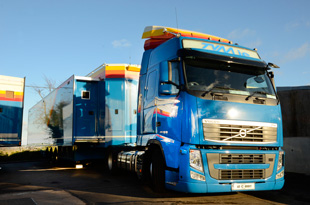 Its audio in centred on a 52-fader Studer Vista 9 mixing console configured with 760 Input Mono Equivalent Signals and 680 Output Mono Equivalent Signals, with 16 channels of audio embedded in an Evertz hybrid router. It is the first Vista 9 in Europe to incorporate backstop PFL at the heart of the audio control.
'The new unit had to be fully 3G capable and audio embedded,' says TVM owner, Bart Arnold. 'As for backstop PFL, this was part of the original specification – if you are used to fader-controlled backstop, PFL it is hard to do without and provides a more elegant fade solution.'
'We also like the layout of the Vista 9 – particularly its ease of use for someone moving from analogue to digital, and we like the optical fibre options of Studer's D21m and new Compact stage boxes. The desk itself has some innovative features, such as FaderGlow.'
TVM's relationship with Soundcraft Studer dates back to its first truck in 1986, which housed early Soundcraft 200, 400 and 800 consoles. In 2007 it invested in its first Vista console, installing a Vista 5 in OB3, and later a Vista 8 became a central to its OB7. Soundcraft retains a presence at TVM, with an Si3 handling the audio mix in OB4 and a new Si Compact 16 specified as a sub-mixer/grams mixer in the new OB8, sending Madi and AES signals to the main desk.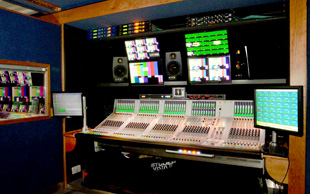 With had a long lead time to design their first 3D truck, and after an 18 month gestation, coachbuilders A Smith Great Bentley delivered a vehicle that provided TVM with a flexible studio environment. The design was a particular challenge to their Senior Design Engineer, Bob Hanks: 'This included separate Tx/comms areas – and a very large sound production room with the digital mixer placed in a quiet environment where it is not exposed to the clutter of comms and line checks, and leaving the engineer to focus on the sound mix. This concept works well and the truck is adaptable to our work model.'
One innovation was having all the audio embedded in the video signal, accessed via the hybrid router: 'There are no separate audio feeds found on the truck, resulting in a massive reduction in wiring,' Arnold says.
He adds that OB8 has justified the large investment as the County Cork-based company continues to work alongside providers such as Visions, SiS-Live, CTV and Telegenic, generally on sports and music production. – including covering the Isle of Wight Music Festival in 3D and have also been mixing in 5.1 for Premiership football, the Open Golf Championship at Royal Lytham & St Annes and Heineken Rugby, for clients such as ESPN, Sky and BBC.
The Vista 9 can cope with all requirements. From surround input channels with an intuitive input balance section to stereo input channels with a 5.1 up-mixing panner to automatic down-mixer processes for outputs, everything is integrated – including dual speaker group 7.1 control room monitoring connectivity.
'We are fortunate in being supported by a great after-sales team from Studer, and that is very important to us and a key factor in our decision making,' Arnold concludes.
More: www.soundcraft.com