The first 'official' demo of a full Nexo STM Series PA system was staged at JTSE in Paris, using a Dante network and Yamaha CL5 digital control.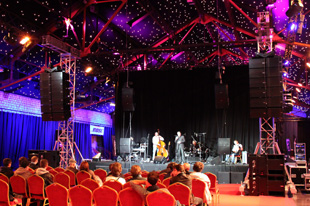 With Nexo engineer David Hochstenbach at the front-of-house console, the demo featured six M46 main and six B112 bass cabinets flown either side of the stage, with four S118 subs ground-stacked on each side. The live band also used Nexo's 45°N-12 line monitors on stage.
Standing for Scale Through Modularity, the STM Series for touring use offers a wide variety of design options using four loudspeaker modules – main, bass and sub cabinets, with an 'omni-purpose' downfill. Claimed to be the first scalable modular line array on the market, STM supports configuration of systems suitable for audiences from 1,000 to 100,000.
Nexo and Yamaha combined their engineering to develop the NXDT104 Dante network card, which is an option for the NUAR (Nexo Universal Amp Rack) that powers the STM Series. The NXDT104 achieves Dante network protocol compatibility for CL Series mixing consoles and Nexo's NXAmp, making it possible for CL consoles to communicate with the NXAmp via Dante.
The Yamaha group is now working towards deeper integration, allowing NXAmp discovery and patching operations – currently requiring a computer running the Dante Controller software application – to be carried out directly from the touchscreen displays of Yamaha CL series consoles. That functionality will become available with CL series firmware update v1.5, to be released in January 2013.
'We intend to take all operations and processes that are troublesome, time-consuming or complex, and make them fast, easy, assured and safe,' says Yoshi Tsugawa, Nexo CEO. 'That's the value were aiming for in all Yamaha and Nexo systems, and this development marks another step in that direction. By being keenly aware of our customers' needs and deepening our technical cooperation, Yamaha and Nexo are determined to offer important innovations and increased advantages into the future.'
See also:
More: www.nexo.fr