Innovason and Sennheiser France have agreed a partnership for the distribution of all Innovason products throughout France with effect from December 2012.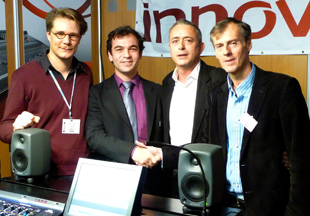 Announced at JTSE 2012 in Paris, the move strengthens Sennheiser France's presence in the live digital technologies market, taking advantage of the existing synergies between Innovason digital consoles and Sennheiser's digital microphones by Neumann.
Part of the partnership, Sennheiser France has taken on Axel Brisard, an expert in digital audio mixing and sound capture. Brisard, who worked as a sound engineer at Radio France for many years, is fully versed in the use of Sennheiser Group digital microphones with Innovason's Eclipse consoles.
'Our goal is to offer comprehensive solutions for sound capture/recording and mixing for the live sound market, just as we have been doing with great success for many years in the corporate A/V market,' says Alain Richer, Director of the Pro Audio Division at Sennheiser France. 'The move is part of our Premium strategy within the Sennheiser Group that seeks to provide our customers with complete qualitative solutions backed up with first class technical support.'
'We have been searching for the right partner in France for some time,' adds Marcel Babazadeh, International Sales Director for Innovason. 'With its heritage as a French brand, the French market remains key to Innovason, so it was extremely important to find the right partner for this important territory.
'In signing with Sennheiser France, I believe that we have found the best possible solution – it will enable both brands to build on the relationships and technical synergies already apparent between Innovason and Sennheiser, and at the same time, Innovason will benefit enormously from the extensive network and infrastructure that Sennheiser France has developed. In addition, they have demonstrated their commitment to this partnership by taking on a specialist in digital technology who already knows both brands intimately. I am convinced that this partnership will be of mutual benefit.'
More: www.sennheiser.fr/entreprise/sennheiser-france
More: www.innovason.com