Part of UCan.tv – a not-for-profit educational consultancy company that works closely with Roland in the UK – UCan Play recently used the Roland Champion Schools initiative to provide an A/V system at Sandbach School in Cheshire.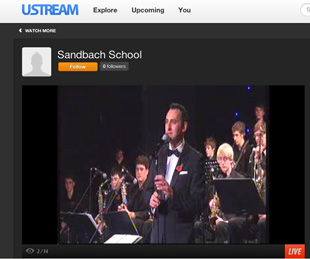 The installation uses a Roland VR-5 to provide video streaming and recording of any live event to different areas of the school, and has the ability to broadcast them via UStream.
'As video streaming technologies such as the Roland VR-3 and VR-5 are relatively new to most schools, we provide onsite and online training support not only to introduce the individual products and their basic use as video mixers and streamers but also how they might be used creatively within the school curriculum itself to help teachers produce their own video curriculum content,' says Jonathan Savage from UCan Play.
The school's first experience of using the VR-5 was to produce a video mix of a school concert. Each half of the concert was recorded to the VR-5's SD card from cameras at the back of the hall, to the left and right of the stage. An audio feed was taken from the mixing desk and mixed along with live audience reaction captured from the video cameras. The ability to record the concert straight to the SD card meant that the final editing postproduction time to produce a DVD of the concert was significantly reduced over other approaches.
Following this initial success, the school decided to web-stream the upper school awards evening using the VR-5 and Adobe Media Encoder Live Streaming software. As this was the first attempt at a live stream, staff decided to do this within a secure space on the UStream site. Captions for the event were provided via a bespoke Flash application produced by the school's web designer allowing another member of staff to type captions live during the event and superimpose them onto the streamed video.
The VR-5 was also used to stream a concert featuring the school's annual Big Band production, dealing with video from three cameras and a live audio stream from the house mixing desk.
More: www.ucanplay.tv
More: www.rolandsystemsgroup.com