Investment in inventory is essential to any equipment rental company, and where that investment is made defines its business. In addition, it has to perform every day and has be flexible enough to serve any eventuality.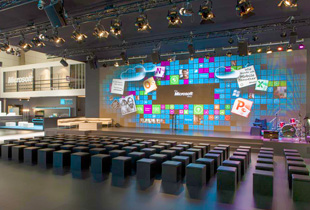 German company Gahrens+Battermann is a full service provider, able to provide video, audio, lightning, rigging, IT and software for a wide range of events. Alongside commercially available systems, the company has developed its own G+B i-nteraktiv and icoms. Heading up the company's audio department is Chief Sound Technician, Bodo Felusch.
'The size of the event doesn´t matter and the only typical thing is that there is no typical thing,' he says. 'Each event and situation is individual, but I think this makes our job so exiting and varied. The challenge is to create flexible structures and teams that allow you to handle all the different jobs with efficiency for the customer. And, of course, the equipment we use should be adaptable, and it should also work without fail.'
The company purchased a batch of Lab.gruppen's flagship PLM Series amplifiers recently, taking its total to 44 PLM 10000Qs, as well as a number of Lake LM 44 digital audio system processors as replacements for its discontinued Dolby DLP units. 'We have used Lake Processing since 2003 when the guys with the Lake Contour came around,' Felusch says. 'From the very beginning it gave us the needed flexibility for different situations. The wireless connection to the PA means the system operator can wander the venue and tune the system from exactly where required – standing in front of a speaker is always the best place to take a decision.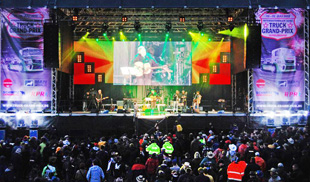 'The PLM Series amplifiers are not only extremely reliable, but the integrated Lake software offers us a whole host of great functions that we can't get from any other amplifier in one device,' he continues. 'It gives us user access at three levels that meet the requirements of different job situations – first, quick and dirty frame preset recall; second. computer controlled system management with WLAN access; and third, complex system design with Dante signal distribution using standard network technology and fibre optics.'
With the Lake brand under the stewardship of Lab.gruppen, the launch of the Lake LM Series of digital signal processors meant that hardware has advanced in terms of capability and flexibility – something that Gahrens+Battermann has welcomed: 'I´m glad that Lake has found a solid host with Lab.gruppen,' Felusch says. 'It makes sense that a leading amplifier manufacturer will write its future history,' Felusch says. 'These days we use the LM 44 as replacement for the DLP, and one main function is FOH Dante break-in and input switching of two desks.'
Known for its speed of use and reliability, Felusch recognises the benefits of the LM 44: 'The subjective signal results with raised cosine equalisation is close to FIR with lower latency,' he says. 'Thanks to Iso-Float we no longer have problems with ground loop issues in analogue wiring, an underestimated feature even in the digital days, when analogue is used as fall-back option and must keep pace with Dante. Again, overall Lake processing increased the sound quality.'
The Dante compatibility that Felusch mentioned is another reason why purchasing PLM Series and LM Series devices makes perfect sense for a company as in demand as Gahrens+Battermann: 'We used Dante from the very beginning since it was enabled in the DLPs with firmware v5 in 2007 or 2008 I guess. At first we were suspicious of the "all signals on one network cable" aspect, and thought it was way too risky. But then we tried it with a redundant first signal and it worked perfectly from the beginning.
'At that point we realised that we would become network technicians in the future. Looking in my tool-case in 2012, I can confirm that 50 per cent of XLR has been replaced by Cat5. Transmitted on fibre it's much better and stable than AES/EBU with its copper specifications.'
More: www.gb-rental.com
More: http://labgruppen.com