After more than a year touring North America, Cirque du Soleil's Michael Jackson The Immortal World Tour arrived in Europe for nine shows at London's O2 Arena. Fusing the King of Pop's hits and Cirque's acrobatic prowess, the tour uses DiGiCo SD7 mixing consoles at FOH and monitor positions.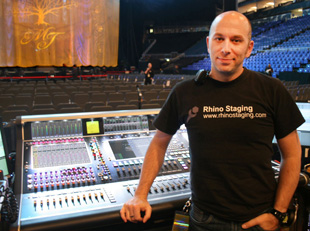 'This isn't a typical monitoring position, but it's great, as I am in the perfect place to see the stage and the people,' observes monitor engineer Renato Petruzziello, looking down on the stage from behind an SD7 on the upper tier of London's O2.
'I use the SD7's video screen to keep an even closer eye on the band – I split it into four sections, with a focus on the key musicians. I can always tell if there's something not quite right going on by the faces they pull. It's a really neat function.'
Petruzziello is running 140 audio channels at the console – 80 for the live band, 48 for music sequences and the remainder for comms channels. All 11 in-ear mixes are sent to the band members in stereo, and there are separate stereo mixes for the Digital Performer operator, four backliners and pyro operator, mime act and two tap dancers in the show, as well as side fills.
'Another feature I really like using on the SD7 is the recall and duration time on snapshots, whereby I have the console on a timer,' Petruzziello continues. 'All I need to do is hit the first snapshot and then it rolls through all of the snapshots in the list with this function enabled. It's great for me because it means I don't need to be hands-on – I can be doing other things like listening to the mixes and making sure the band are getting what they need, without having to worry about changing the snapshots. It makes life easier for all parties.'
At FOH, Martin Paré, uses 166 inputs on his SD7 and an SD Rack position to accommodate his favourite analogue outboard. Channel count and the ability to run everything in 96k resolution are two major advantages in using DiGiCo: 'When we were doing the concept of the show, we ended up with 448 I/O and didn't have enough room on the console we were originally thinking of using. Here, I have two racks, Ray has two, and there are a further three that we share. I don't think there's another manufacturer out there that can accommodate those kind of numbers.
'In terms of quality of sound, what's coming out of those preamps is pretty amazing. You don't have to do too much to make it sound great – just plug it in, and away you go. For this show, it's all about the I/O and the amount of cards you can have in every rack, and the SD7 does the job absolutely perfectly.'
The show will now tour Europe for six months, before returning to the UK in March 2013 for shows in Manchester and Birmingham.
More: www.digico.org