One of only five theatres worldwide and the only venue in Europe to be selected as a Disney partner, the Fredericia Theatre in Denmark staged the European premiere of Disney's Aladdin: The New Stage Musical.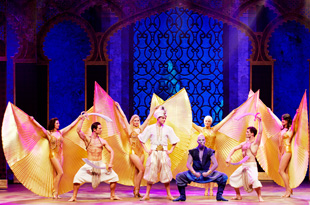 Aladdin is the biggest production that has ever been staged at the theatre, with Alfa Audio called in to supply both equipment and expertise on all aspects of the sound production. One of the key elements was a TTA Stagetracker FX system, with QLab show control software to manage all of the sound effects (of which there are many) for the show. Fredericia sound designer Tim Andreasen worked closely with Lars Frederiksen from Alfa Audio to design the extremely sophisticated system, including the Stagetracker FX system.
'I'm using the Stagetracker FX matrix for panning different sound effects in full surround sound, running within QLab,' Andreasen says. 'I've got a multichannel matrix, so I can have up to six different sounds moving around at once. I have some scenes where sounds emanate from the back of the venue and then move forward in real time. In order to create this, all I have to do is simply draw a line in QLab of where I want the sound to go, and that's it.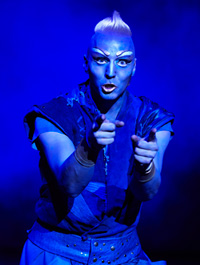 'Without Stagetracker FX, it would be a really complicated operation – I'd have to create a surround WAV file, save it, and then transfer it onto a different system in order to manipulate it to create the effect I want. Using Stagetracker FX within QLab I can design the movements in real time. I can create sound effects that fly around the room in no time at all, and the extra spaciousness it adds to the effects sounds wonderful. It's an extremely powerful tool that I am looking forward to using on other productions.'
'I'm eager to try out the performer tracking on a production that is more acoustic and less concert sound-based than Aladdin,' he adds. 'If it's as easy to implement and as effective as the matrix is for sound effects, I can't wait to hear the results on the right production.'
The theatre works hand-in-hand with the exclusive performing arts school, the Danish Academy of Musical Theatre. Today, around 80 per cent of Fredericia cast members are Academy graduates. It was this relationship, and the fact that the Fredericia Theatre constantly seeks to improve the standard of musical performance in Denmark that attracted the attention of the Disney Corporation who were looking for a venue to host the European premiere of their new production of Aladdin.