Cautious enough to have designed an evaluation process that simulates the harsh environmental conditions of the annual California fair circuit,' Speeda Sound is quietly confident of the reliability of the equipment it puts into production sound, backline and communications for as many as 50 fairs during the course of a year.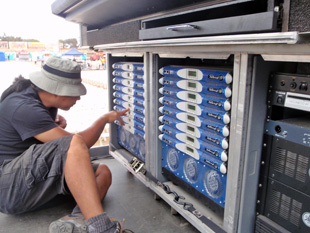 The latest acquisition made by the Fresno-based audio company is a consignment of18 Powersoft K3 DSP+AESOP power amplifiers, which it has configured as a compact, two-rack stage monitor package. 'We put the K3s into every environment that we could – heat, cold, dust, rough terrain, you name it – and on everything from heavy rock to heavy country to heavy rap,' says Speeda SoundPpresident and founder, Mike King. 'Never once did we find a situation where they overheated or anything. Not once did they fail, from the day we put them in the racks.'
Established in 1977, the company provides production sound for a variety of events but is focused on California's busy calendar of fairs, which are held from February to October, and has has built sufficient equipment, full-time staff and a fleet of trucks to handle as many as four fairs simultaneously, with some fairs scheduling entertainment on as many as a dozen stages.
'We needed something really compact that has a lot of power,' King continues. 'Weight was also a consideration. The K3 weighs 27lb and occupies just one rack space, plus it has all the digital processing built in, with control of parameters and presets.'
The size and weight were important issues, as the 18 amplifiers needed to fit into two racks of a three-rack package that could fit under a Yamaha PM5D or Avid Profile digital console.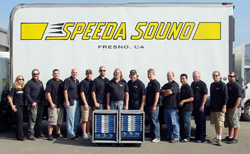 'The whole thing can be strapped together and rolled away in a matter of seconds,' says King.
'Just from the fact that we've taken monitor world and put it underneath the desk, really cleans up the stage,' adds Operations Manager, Dave Harris. 'The density we're getting into one of those little 12-space racks is pretty amazing. It also makes the truck pack a lot easier.'
California's fairs attract millions of people every year. This year's Orange County Fair, for example, attracted nearly 1.4m revellers over 23 days. The Big Fresno Fair – reportedly the largest in the Central Valley and the fifth biggest in the state – pulls more than 500,000 during a 12-day period.
The state fair circuit attracts some major names in music entertainment, ranging from classic rock and hip-hop to country, this year including Joan Jett and the Blackhearts, Blue Oyster Cult, Journey, Snoop Dogg, Big and Rich and Martina McBride. Newer artists on this year's schedule included Cobra Starship, Finger Eleven and Third Eye Blind.
The Powersoft K3 amps have brought a noticeable improvement to the performance of the JBL VRX monitor wedges that they are powering: 'We get anywhere from five to 12 different guest artists coming through using the amps every week,' Harris reports. 'We've gotten lots of compliments – because they're seeing the same wedges from other companies. Guys are digging them.'
The amps have also performed with EAW KF850 cabinets as side fills, King adds: 'They drive side fills tremendously. No issues, no problems, no concerns. Bring it on…
'I've been doing this for about 34 years full time, and I've tried some amplifiers that didn't work in our environment. They just wouldn't hang in there: it was too cold, or too dusty, or there were too many demands on them. The Powersoft amps have been nothing but phenomenal in all departments. They look great, they sound great and they perform great. I don't have anything but praise for them.'
More: http://speedasound.net
More: www.powersoft-audio.com