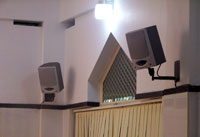 With the arrival of the Holy Month of Ramadhan, the many mosques that had improved their sound systems in readiness have been able to put them into action. Southern India in has seen a number of moques making changes, among them two have choosen speaker systems from Italian loudspeaker manufacturer, Montarbo.
These have both been supplied by Montarbo's India agent, Chennai-based Sound Land, whose engineers Lakshman carried out the installations. Having placed the speakers at the correct positions, Lakshman used an analyser to ensure that they were properly balanced and delivering a flat frequency response. Each of the installations comprised 20 Montarbo MT160P passive, full-range loudspeakers, driven from two eight-channel Montarbo 459 powered mixers. They also included six AKG D5 dynamic vocal mics and an AKG wireless lapel mic. The connectors used were Neutrik along with AmPro cables.
The Montarbo systems were chosen after being tested against systems from other speaker companies. Head of one of the mosques, the Grand Mufti Hydher reported the quality and power of the sysem 'is astonishing, satisfying even the most demanding users'. He also stated that it would be a 'great experience' for believers during the Holy Month.
More: www.soundland.in
More:
www.montarbo.com