Putting aside her long-term FOH engineer and production duties with The Noisettes, Bryony October took to the road with British singer songwriter Delilah and Soundcraft's new Si Performer mixing console this summer.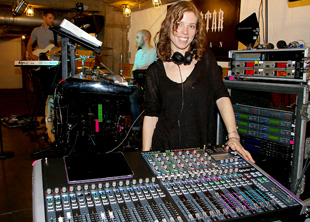 October knew she would need a minimum of 31 inputs and that she would also be mixing the five-piece band's monitor in-ears from front of house. But her chosen console also needed to be compacted into a small footprint in order to fit into a splitter van (along with IEM rack and mics). On top of this, she has become one of the earliest adopters of the first mixing desk to incorporate a DMX lighting interface.
Having previously worked with Noisettes' lead singer Shingai Shoniwa on a Soundcraft Vi1, October had contacted Soundcraft to see if they had any new consoles in prospect. 'The timing couldn't have been better, as the Si Performer was just being released,' she says.
Offered the role by tour manager Tim Boardman, she went straight into production rehearsals and was soon mixing Delilah's soulful voice and five-piece band with no induction necessary. 'It has screens on each channel, so you can see the compressors and gates, and the FaderGlow changes colour so you never make a mistake when moving from FOH to monitor mixes,' October enthuses. 'It also turns the system EQ red so you can clearly see the graphic. The touchscreen is easy to get around quickly, with the one-touch easy mix with buttons across the top of the faders. And I love the magnetic iPad notes pad...'
The show mix is placed on the desk's top layer, with October sub-mixing the drums to a group bus, and also Delilah's vocals and some of the drums to the Lexicon effects.
Delilah's personal monitor mix is also comfortably in hand: 'It's all about the vocal level, reverbs [the desk contains four stereo Lexicon effects engines] and a low mix of everything else,' she says. 'It's about creating an open and ambient sound so that the artist feels part of the show and can interact with the audience.
'The Si Performer has been a pleasure to work on. It is an easy desk to navigate and has enabled me to deliver the five monitor mixes and house sound with ease,' she adds, confirming that she would have no hesitation specifying the desk as her go-to choice for any club venue splitter tour.
See also:
More: www.soundcraft.com