Combining the functions of coffee shop, bar and events venue, Marcus Krümmling and Frank Richter opened the M2 Café/Bar in the early 1990s, bringing a 'nightlife recolution' to Magdeburg in East Germany. After more than ten years use, the sound system recently received some renovation — but rather than bringing in replacements, Krümmling and Richter wanted to see what the latest in technology could do for M2.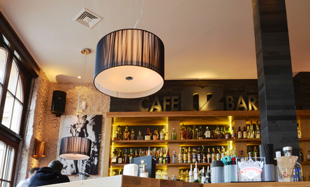 M2 is a truly multi-purpose venue – during the day, it's a café, playing gentle but audible background music. In the early evening it becomes a bar, and the volume creeps up. Depending on what's on in a given evening, the requirement to switch on outside speakers to feed the outdoor areas, or to patch DJs in to the sound system, sometimes becomes more important as the evening goes on, and the venue gets 'louder'.
The redesigned M2 incorporates a powerful but intuitive remote-controllable sound system that meets all of its requirements. Audio presets for the venue can be called up from a QSC DSP 322ua processor by means of a NAC-100 networked remote, which allows up to ten speakers and one subwoofer to be easily adjusted to suit any changed situation. The M2's four QSC AD-S82H AcousticDesign speakers, together with its six AD-S32Ts and the wall-mounted AD-S28Tw subwoofer are driven by just two ISA-Series power amplifiers.
Three main settings are stored. During Café hours, the music is routed to all loudspeakers at a restrained volume, but still with an energetic sound. When Happy Hour rolls around, the smaller AD-S32 loudspeakers are driven less powerfully. During evening events and for private parties, just the main speakers and the subwoofer are left to handle the music, making for a powerful but unmuddied sound. And the venue's outside speakers can be switched on or off via a simple menu.
'Operation is intuitive, simple, and can be taken care of by any of our employees, even in the sometimes stress-filled working environment of a bar,' says Marcus Krümmling. 'Even during the day, when M2 is a café, the clear, powerful sound has won everyone over. More and more DJs are also loving the way everything is built in here at M2. The days of having to bring your own heavy old speakers to M2 are a thing of the past.'
More: http://qsc.com