The Miami production powerhouse that is Circle House Studios has chosen a Solid State Logic Duality SE mixing console for its Cabana Studio room.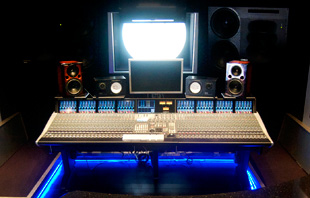 'We chose Duality because it really does give you dual capabilities,' says Head Engineer, Charles Wakeman. 'You can work in Pro Tools, through the desk in analogue, or you can do both. You have pretty much ultimate control over a session. We have Pro Tools files sent in that may have been tracked in a studio environment or in someone's living room, so we need to be able to offer a premium quality, stable sonic benchmark to mix each project. Duality offers that high level sonic stability. SSL's commitment to sound quality over the years is evident through the success of the projects recorded here. Duality continues that tradition.'
Originally a private facility, Circle House's first room featured an SSL 4000. Its transition to commercial services with four rooms saw the addition of an SSL J Series and a Midi room – and now the Duality.
A recent studio project with the rapper Pharrell, which included Miley Cyrus, Mary J Blige and Good Charlotte, was mixed using new desk. 'Pharrell has been the dominant name for Cabana Studio as he keeps coming back for more,' says Mix Engineer, Matthew Desrameaux. 'He loves the room, loves the sound and loves the way his beats are coming out. Miley Cyrus was here with him. They came in knowing the console was a hybrid and then when you actually show them, you could see that their minds were being blown. Just looking at Duality was inspiring, but the sound quality is what seals the deal.
'With Duality, I can simultaneously set up a stereo mix with and without compression, and quickly A/B them without printing,' he adds. 'I also like using the VHD mic preamps that allow me to add some colour to a track without going to the outboard gear. The console delivers great results while speeding up the sessions.'
'Mixing music is all about getting the right sound for each artist and style of music, and Duality is a great tool that makes that happen,' Wakeman says. 'When we work with older tracks or when clients bring in tracks from home for a mix, as soon as they hear the Duality difference they ask, should we just start over and re-record the whole record? They always end up wanting the Duality sound throughout. That is how good this console really is.'
More: www.solidstatelogic.com