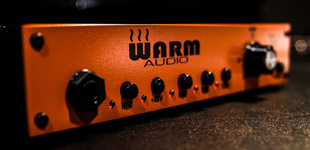 Independent pro audio distributor Nova Distribution has secured an exclusive UK distribution deal for the Warm Audio WA12 Microphone Pre-Amplifier/DI. Designed by Bryce Jones in the US, the WA12 promises to bring the cost of a 'world-class preamp' below the £1,000 mark.
The WA12 is a professional, dual transformer-balanced mic pre with 71dB of gain. The circuitry is based on the 312 style preamp, and uses unique discrete component choices.
The unit uses custom designed Cinemag input and output transformers, which are also used in the Presonus ADL-600, A-Designs Pacifica, Universal Audio LA-610 and Fink Audio CS2-FA. Its 2MΩ True HI-Z input sends the instrument signal through entire circuit including both Cinemag Transformers and the discrete operational amplifier. The Tone button switches the input impedance from 600Ω to 150Ω, which changes the tone of both the mic and HI-Z inputs.
'Designer Bryce Jones summarises the WA12 perfectly as warm,fat analogue tone,' says Nova Distribution's Phil Skins. 'It would make a great addition to any studio set-up needing to beef up instruments and microphone recordings. Factor in the price of £379.00 and the WA12 looks like becoming another superb product for Nova Distribution.'
Key specifications:
71dB gain.
High-voltage 1731 style op-amp
48V phantom power
Mic level balanced input: XLR/TRS
Balanced outputs: XLR/TRS
-20db pad