The multi-million pound Forum project at the UK University of Exeter calls on an 'inspirational mix' of outside and inside space that includes the Alumni Auditorium, two technology-rich Exploration Labs and a multimedia room, as well as seminar and group study facilities.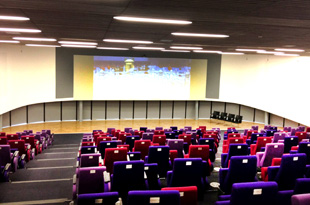 The responsibility for providing and installing the extensive A/V system in the Forum fell to GV Multi-media Ltd, which was faced with a particularly tight time frame since the opening needed to form part of the Queen's Diamond Jubilee celebrations. Centred on the 404-seat Alumni Auditorium, with its avanced projection and audio systems, the technical specification was compiled by consultant Buro Happold assisted by Harman Pro agent, Sound Technology.
Designed for flexibility of content, including musical presentations and cinema-quality screening of films, the Alumni Auditorium has been equipped with HD widescreen projection, IPTV streaming and videoconferencing – calling on gear from Crown, dbx and JBL's cinema portfolio, constructed around a BSS Soundweb digital network and operating under Crestron control.
All audio within the auditorium is transported through CobraNet protocol devices – including BSS Soundweb DSP and streamed to appropriate areas via a pair of high-performance Ethernet switches installed in a remote amplifier rack. The suite features Crown CTs-powered JBL ScreenArray cinema cabinets, housed flush to the screen, to accommodate the LCR channels, and an ARS (Assisted Reverb System) as part of a 7.1 surround system.
Elsewhere, the first of the campus' Exploration Labs also boasts a full A/V spec with the audio passed into a DSP processor to allow routing, via a Crown CTs 600 power amplifier, to a pair of JBL CBT 100LA line array speakers – also providing record outputs for an Echo360 lecture capture. In the Exploration Labs' Group Study room, which is fitted with ten 60-inch wall-mounted flatpanel displays, the in-room audio is provided by four further JBL CBT 100LAs – one in each corner of the room.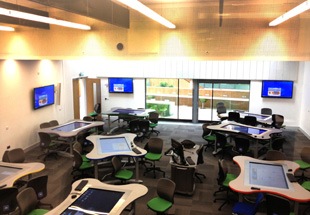 Helping to achieve the university's technical ambitions were GV National Technical Manager, Daniel Victory and Divisional Director Richard Watts. According to the former, JBL's 'next generation' ScreenArray loudspeaker system was implemented to satisfy the varied needs of the flexible space, including musical performances from solo singers to orchestral pieces to operatics – as well as day-to-day presentations and cinema surround applications. 'The JBL ScreenArray series offers the fidelity and high performance necessary for all of these applications, with the audio carefully controlled, routed, equalised, crossed-over and limited by the powerful Soundweb London DSP,' Watts says.
The Soundweb network itself is built around a pair of Blu-800 units, offering a 24-input/12-output matrix with a combination of standard and AEC input cards, for routing and processing, an 8-input Blu-32 in the lectern for source audio and lectern microphone with phantom power, a 4U-high mobile stagebox comprising a Blu-320 (16 inputs) and Blu-Bob2 breakout (offering an additional eight outputs) with XLR patch-rail; this was connected using the highly cost-effective BSS Blu-Link fault tolerant buss to minimise the CobraNet requirement.
A Blu-32 (12-out) in the amplifier rack drives the stack of three CTs 600, two CTs 1200 and two CTs 2000 power amplifiers while a further Blu-32 is used in conjunction with the artificial reverberation system.
Inter-system audio is run via CobraNet and through the implementation of this within the DSP construct allows routing and rerouting of the audio around the system, with one-button control on the Crestron system allowing the users to switch from performance to lecture to cinema modes in a matter of seconds.
'The BSS Soundweb worked extremely well with the CTs amplifiers and JBL ScreenArray,' Victory says. 'Using the Soundweb Blu-800s, we were able to quickly set up and tweak the crossover settings for each individual speaker channel for the tri-amplified arrays and subwoofers. Once configured, each output was then set up with level limiting to prevent user error from damaging the loudspeakers and to keep the sound levels within safe audible limits.
'We are extremely proud of what we have achieved at The Forum creating at the heart of the University a hub of A/V technology,' he adds.
More: www.soundtech.co.uk