A member of the Australian C3 Church movement, Bayside Church is located in Cheltenham, Victoria, where it provides vibrant and contemporary worship services for all age groups. Production Manager Tom Moore oversees the maintenance and purchase of equipment, training and team management. With its numbers growing quickly – the main sanctuary seats over 500 and the church congregation currently tops 1,000 – he aims to keep the A/V set-up in step with the church's needs. The first major upgrade is the installation of a DiGiCo SD9 mixing console supplied by DiGiCo's regional agent, Group Technologies.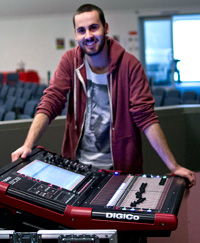 'This is our first DiGiCo purchase,' he reports. 'However, I had seen these consoles in action when dealing with Dominica Sound on the Gold Coast. I had always heard great things about the quality of DiGiCo.
'We had pretty specific goals and requirements that I felt were important in choosing a console,' he continues. 'The console had to obviously sound good, but it was also very important that it was user friendly as the entire sound production team is made up of volunteers with a mixture of little to no audio experience outside of church. I was really surprised how easy it was for the volunteers to start using the console. After one training session I was able to let the other sound engineers mix by themselves without any problems at all. I honestly don't think this would have been possible with any other console that I have used previously.'
'Size and footprint was also a consideration, as we wanted something that had a small footprint but didn't feel cramped when being used. The layout of the SD9 was also very similar to analogue consoles that many of the volunteers had used before so much of their knowledge was easily transferable.'
Bayside Churches SD9 sees a wide range of performances and acts, which Moore says it readily accommodates: 'The SD9 is being used in the FOH of the main auditorium. Its operational at Youth service on Friday night and two regular services over the weekend. There are often other events in the auditorium that it also gets used for including men's and women's events. We are running two D-Racks [one on stage and one at Ops] via Cat5e to control all inputs and outputs.'
As the SD9 is compatible with all of the DiGiCo SD Series, Moore is also able to add additional consoles as required: 'We didn't want to be stuck with a console that we would have to upgrade in a few years because of advances in technology,' he says. 'The software updates allow us to upgrade when we need to, which will increase the life of the console.
'We have had heaps of comments in the past few weeks about how much the sound has improved and cleaned up. Even congregation members that aren't tech savvy or musical have noticed the different, as it has taken away the harshness from a less than adequate PA. The SD9 has really enabled us to get 110% out of our current set-up.'
More: www.grouptechnologies.com.au
More: www.digico.org