Shanghai's International 2012 Jazz Festival attracted Jazz artists from around the world, including Incognito from the UK, Japan's Jabberloop, Theo Croker's Afrosonic global collaboration and Italy's Roberta Gambarini to perform for 8,000 music fans. Additionally, American trumpeter Roy Hargrove's RH Factor made their debut in China while Chinese artists Tia Yuan, Karen Mok, and Khalil Fong gave memorable performances.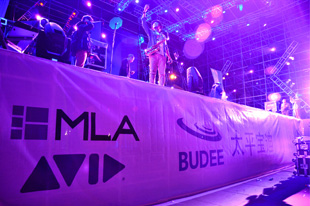 Responsible for the main Green Note stage, the largest and most popular of the six stages, was Martin Audio distributor, Budee. Assembling seven Martin Audio MLA elements and one MLD Downfill in each main array hang, and placing four MLX subs per side on the ground, Lee Feng, (one of China's leading tour sound engineers) achieved consistent sound from 3m at centre stage back to 65m at FOH.
'The MLA System Budee supplied was the ideal choice for this outdoor festival,' says Martin Audio Application Support (Touring), Andy Davies. 'MLA gave us perfect consistency over the whole 65m-deep audience area.'
Remarkably, the audio mains were also about as compact as it gets – at only 790kg per side including flyware.
'Being able to do this with only 800kg of PA per side really shows how advanced the MLA is,' Davies says. 'All the visiting engineers commented on the exceptional clarity and consistency of the system but most importantly visiting artists were blown away by the quality of the sound – that's when you know you are really onto a good thing.'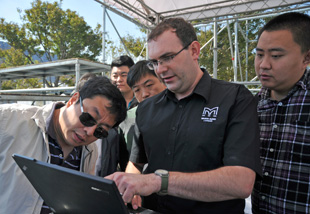 'Mixing a show on the MLA is a great experience,' adds Budee's Lee Feng. 'Everyone noticed how detailed and rich the sound is everywhere but also how controlled the on-stage sound is from this PA. I haven't used anything else on the market that can do what this system can.'
'MLA is definitely a system that can be used for all types of venues – and is especially great for outdoor sound,' offers Spencer Graves, FOH engineer for Roy Hargrove's RH Factor. 'I could not believe that the arrays were only eight speakers per side. The clarity was phenomenal and the separation between the arrays and the subs really made a difference out there. The threshold to pump up the subs' volume was really a great help as far as creating a superb sound environment.
'Initially I was worried about how such a small array would sound when I went to FOH, but the audio was nice, bright and clear for all to hear – and as loud as we wanted to go.'
More: www.martin-audio.com
More: www.budee.com