Supporting its courses in Multimedia Production, the Fachhochschule Kiel University of Applied Sciences in Northern Germany operates a number of editing suites and radio studios.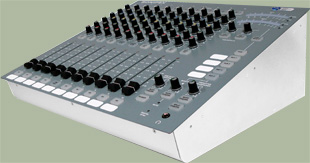 An overhaul of the university's technical facilities in 2012 has seen the replacement of its static studios with a custom mobile unit, which provides student operation in several auditoria and offers greater flexibility and ease of use during regular live productions and radio broadcasts.
System Engineer Arne Heyna – from the the university's long-standing supplier, viz<a>con – was responsible for the consultation, planning and installation of the new mobile studio. He chose the Sonifex S1 Digital/Analogue Radio Broadcast Mixer as the mobile console, which he purchased through local Sonifex distributor Orange Tec, based in Stuttgart.
'The S1 meets all of our technical requirements,' says Heyna. 'Its size and technical properties – such as the number of channels, diversity of audio connections, routing, measurement, programmability, intuitive usage – are perfect. And it looks and feels good too.'
The Sonifex S1 mixer is a high-performance, compact, low-cost, fixed-format mixing console designed for on-air radio use. A 'no compromise on quality' approach gives it a solid feature set supporting small-scale commercial, community, educational and student radio stations that need a versatile, reliable radio broadcast mixer.
The S1 can be controlled remotely (via free Sonifex SCi software.) with both analogue and digital inputs and outputs, allowing simultaneous local and internet broadcasting. The desk allows switching between its five mic, four mono line, ten stereo analogue, two stereo digital, one telco and one stereo cleanfeed inputs. Along with monitor outputs for presenter headphones, guest headphones and loudspeakers, it has digital outputs that can be referenced to an internal clock source between 32kHz and 96kHz or external synchronisation sources can be connected via SPDIF, AES/EBU or BNC wordclock. A