Dubai-based SLS Productions has taken a Clear-Com Tempest wireless intercom system from local agent, Nicolas Kyvernitis Electronics Enterprises (NMK).The live production and hire company has made the investment on top of its existing two-wire systems from the Clear-Com Encore range, in its coms for for high-profile events.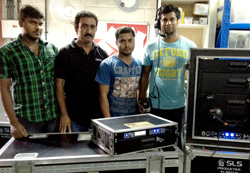 Operating in the 2.4GHz band, Tempest2400 is available as a two-channel or four-channel system for indoor, outdoor and touring applications. The system is capable of operating in multiple modes, with each mode providing varying level of communication flexibility and user capacity. An unlimited number of users is supported in Split and Shared Modes. In the system's Normal Mode, up to ten BaseStations and five full-duplex wireless BeltStations can operate on one system with no frequency coordination required. Once registered to a base station, a beltpack needs no further configuration and roams freely within a single zone.
The news follows the recent uptake of Clear-Com FreeSpeak and Tempest2400 digital wireless systems bt the Bhutan Broadcasting Service, for its daily news, documentaries and entertainment television programme production operations.
'Clear-Com's Tempest system is the most sought-after wireless intercom solution for high-profile concerts, events and production applications, where remote monitoring and control as well as clear two-way communication is necessary,' says Chicco Hiranandani, Business Development Manager at NMK.
See also:
More: www.nmkelectronics.com
More: www.clearcom.com