The first Audient ASP4816 analogue mixing console to arrive in France, has been installed at Le Hangar A Sons studio and immediately put to work mixing ten tracks for local band Black Hole Supermass.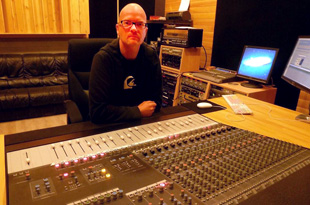 A commercial studio based in northern France, Le Hangar A Sons is operated by associate engineers Tieri Farasse and Bertrand Charlet who wanted a console that was compact and simple but with excellent preamps and EQ: 'We had a long list of wants, including flexible monitoring and a good signal to noise ratio,' explains Farasse, who looks after the commercial aspects of the operation. 'We got it all with the Audient.'
In return, Farasse built a custom desk to accommodate the console: 'We're particularly impressed with the the compressor output dynamics,' he continues. 'The ASP4816 enables us to manage our recording sessions much more quickly and efficiently now. In the past we were mixing in the box, but now we don't need to use a virtual console. The ASP4816 works as a summing solution as well.'
Between them, the two engineers (who are also musicians) record a lot of rock bands, as well as working directly with composers. They have also gained national recognition for their work producing audio guides for museums and municipalities.
With a new Mac Pro eight-core, 2.4GHz also just installed, they are now mixing a new album from French pop sensation Lezard Martien, which is due for release at the end of November 2012. Following this, there is a recording session with funk band Eko in the studio diary.
The placement follows similar breakthrough sales in the UK, US and Germany for the ASP4816.
More: www.audient.com