Canadian French language Category A specialty broadcaster MusiquePlus (part of Astral Media) has called on Lawo to provide key components in its revitalised production facility. Central to the purchase are two second-generation Lawo mc²56 production consoles, a Nova 73HD router, and a V__pro8 (pronounced V-line pro 8) video processor, all of which will be controlled by a Ross Overdrive automated production control system.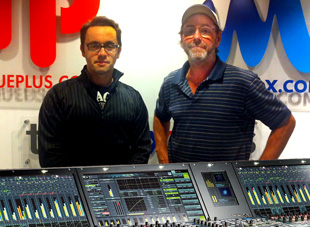 With a Lawo Nova73HD router at the heart of a fully networked system with decentralised I/O frames, the Music Control Room handles music mixes from Stage A – which primarily handles live shows – while Control Room A is responsible for the 5.1 broadcast mix. Both control rooms are fully redundant to each other and each of the 32-fader consoles can cover the duties of the other.
All I/O is via the Nova 73 router and are delegated (including rights management) to the mc²56 console that is currently in charge. This arrangement provides structural redundancy, and facilitates parallel set-ups and easy expansion for future enhancements. The Lawo V__pro8 video processor, with its ability to connect signals of different video formats as well as between audio and video, handles HD-SDI embedding and de-embedding for all 16 audio channels of the four servers. An Avid Pro Tools system is also connected to the router and is available to both of the Lawo mc²56 consoles.
'Our second generation mc²56 consoles offer a wealth of capabilities that, I'm confident, will enable the production staff to experience far greater workflow efficiency while the Nova 73HD router ties the two production rooms together and makes it easy to manage the content,' says Herbert Lemcke, president of Lawo North America. 'With our V__pro8 video processor and the Ross Overdrive figured into the mix, this will be one very capable and versatile production facility that will be suited to handle any task that comes its way.'
'The quality of the product, the ease of use, and the open system made this an obvious choice for us,' offers Pierre Marceau, Sound engineer for MusiquePlus. 'In addition, the possibility to tether a smaller class of consoles like the sapphire was a bonus in the decision making process. Furthermore, we are confident the direction that Lawo has taken in its product development is the right one.'
'The people at Lawo quickly understood our needs and the challenges we were facing,' says Jacques Fortin, Engineering Manager for MusiquePlus. 'Sound quality was never a compromise for MusiquePlus and we feel that, with Lawo, we will keep that standard very high.'
Completion of the project is slated for January 2013.