When Jesus My King Church senior pastor and founder Dr Steven Francis oversaw its relcation in Singapore, he wanted to ensure that services in the church's new home could be supported by live music. Wisely, he looked to install loudspeakers for both reinforcement and stage monitoring. As usual in Singapore, however, space was at a premium.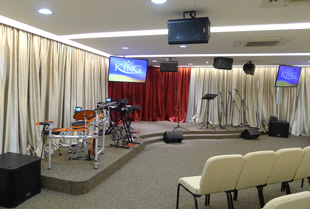 Local contractor Sindo Exports worked in conjunction with Singapore sound consultant Robert Soo of Cogent Acoustics, who specified the system and recommended QSC's K-Series. 'After surveying the venue, I figured that the K Series best fitted the bill,' he says. 'The hall is wide and fan-shaped, with an extremely low ceiling, and a floor space that leaves little room for the FOH booth and even the stage after fitting in all the required seats.'
Five K10 boxes were installed, of which three form the main front-of-house system and two serve as wedges for musicians' monitoring. Soo also specified a pair of KW181 subwoofers (one positioned on either side of the stage) and used smaller K8s (three in total) as fill speakers towards the back of the church. Two K8s are used in a separate training room and a sixth plays music in the church's main reception area.
Both Sindo Exports and Robert Soo are pleased with what has been achieved in a fairly compact fifth-floor property, as is the church founder: 'Reverend Francis was already impressed with QSC products from a previous experience,' Soo explains. 'He had no problem with any of my suggestions, including the choice of active monitors, which I considered for this project because they save on the space required to house a rack of amplifiers.'
More: www.sindoexport.com
More: http://qsc.com