Prior to the installation of a new loudspeaker system, the relatively high reverberation times of the town hall of Mid-Berlin have made its meetings more than a little problematic. Large windows and solid surfaces all played their part in ensuring poor speech intelligibility for all present – until the administrative office issued a mandate to consultant Akustikbüro Krämer & Stegmaier to find a solution to the problem.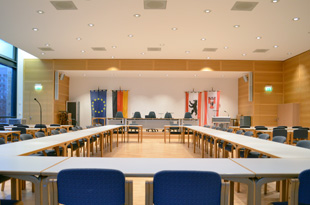 Krämer & Stegmaier knew that digital beam-steering would solve the issue in the town hall, and considered a system it had tried before. Systemintegration Berlin General Manager/Project Engineer Gerd Thielemann had other ideas, however, having used Tannoy's QFlex digital beam steering range,.
QFlex uses a beam-steering algorithm that allows precise control over the throw of the loudspeaker. Users can focus the sound on the seats and away from the ceiling, walls and partitions, reducing reverberation times without the need for acoustic dampening treatments for the space. The result is that no matter where you sit you hear the direct sound from the loudspeakers with much higher speech intelligibility. It's clear, focused, high quality sound that is evenly spread to the required areas.
With all the data available, the Krämer & Stegmaier designers simulated different approaches with CATT-Acoustic. Based on the results the decision was made to go with the most effective solution – the QFlex 24. The QFlex are used in an arrangement with three Kling und Freitag CA 106 for monitoring. The STI- measurements made after the installations were 0.63 and 0.72, putting it very high on the intelligibility scale.
'Tannoy's QFlex is performing excellently in the space,' Thielemann reports. 'The hall has a lot of glass and reverberant surfaces, and the precise beam-steering technology available from Tannoy allows us to avoid reflections.'