Based in Portland, Oregon, Horne Audio offers live sound reinforcement for events ranging from intimate audiences through to large-scale productions at major venues throughout the Pacific Northwest. Recently, the company was called out for The Music Experience.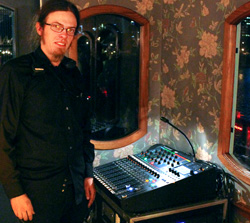 With music in the air and hundreds of revelers dressed in steampunk costumes, The Music Experience took place on the Sternwheeler steamboat and featured performances by bands The Jezabels and Y La Bamba as the vessel cruised the Willamette River. Intel and MTV Iggy hosted the event, for which Horne Audio used a Soundcraft Si Compact 16 digital mixing console.
The desk was set up on the second of the Sternwheeler's three decks, as the performances alternated between two levels. Horne Audio engineer Jim Schamberg ran 16 inputs with one feed coming from the system on the boat's upper deck and one feed running from the Si Compact 16 to the upper deck, so the live performances could be heard throughout the boat.
'The Si Compact has been a terrific board for us,' he says. 'The effects are great and it's compact but versatile. Fourteen busses for this size board is also a tremendous advantage. We're able to easily transport the console for a range of different events.
'The console worked great tonight, it's really perfect for this size of an event,' Schamberg reports. 'We have more than enough channels and the sound is excellent.'
More: www.horne-audio.com
More: www.soundcraft.com