Raising the bar for its for film and video game audio services, Seattle's Rogue Island Entertainment has rebuilt its Studio A and equipped it with a Solid State Logic Duality SE console.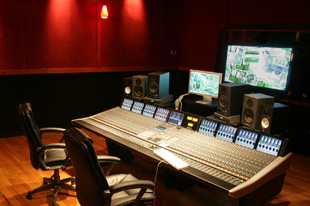 'When we had the opportunity to re-build Studio A, we wanted a console that would make a difference, one that everyone would want to work on and be excited about using,' says, Rogue Island Entertainment chief engineer and producer, Eric Janko. 'While we looked at other analogue consoles, we came to the conclusion that if we wanted to compete on the big market, we needed a Duality. SSL has a long history of leading the market and professional artists, engineers and producers know this. We also needed the ability to work in the box, so Duality was the logical conclusion.'
The console's integrated 5.1 surround capabilities and DAW control address modern production workflow needs in line with the new studio's role. Designed as a mix room with overdub capabilities, the old Studio A live room is now a spacious control room, with the old control room transformed into smaller tracking studio. The new Studio A is wired for surround and ready for projects ranging from feature films and video game projects, to mixing major recording artists.
'I have worked with the full line of SSL consoles over the years, from the E+ and G Series to the J Series,' Janko says. 'Working with Duality brings that experience together into a more capable console that retains the feel of a legacy SSL desk, while giving me the tools to work with our Pro Tools DAW. With the addition of the VHD mic pres, getting the right sound for a particular track happens in seconds. I don't need to fumble through hundreds of plug-ins for the right match, and I don't even go to my outboard gear that much anymore because the sound is spot on through Duality.'
The Duality makes Rogue Island Entertainment the first facility of its kind in the Seattle area, providing production capabilities that meet future business demands. 'To get used to all the functions of the Duality, we ran an on-going album project through it,' Janko says. 'The sound coming out of that board is simply amazing. The console is open, has lots of headroom and the EQ sounds great. The VHD mic preamps are super cool and the DAW control perfect. With the Duality, the quality of the studio and the projects recorded here are truly being brought to the next level.'