The annual Melbourne Mavis showcase not only provides a stage for its performers but also one for RMIT University's students to take on the production's technical tasks.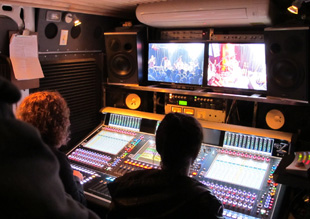 A collaboration between RMIT's Music Industry (Sound Production) and Audio Visual Technology departments, the Mavis project has been running since 2005 and offers an opportunity for final year students to test their skills in event planning, live sound, audio and visual recording in a professional setting, using industry standard equipment.
This year students were faced with a variety of acts, performing on two stages. The music ranged from cartoon metal warlords Barbariön, country rockers Alford's Band of Bullwinkles and psychedelic beatniks Wolfy & The Bat Cubs to singer/songwriter Violetta Delconte Race (aka Celery), and 'master of ethereal delicacies' Wintercoats. Taking place at the Corner Hotel, a DiGiCo SD7 was at front of house to give the students a taste of real-world high-end audio .
'These courses aim to offer students the best, most relevant experience available to equip them fully for life out in the real world of technical production,' says RMIT Media and Communication Programs Manager, John Phillips. 'Mavis gives them the chance to work in a real world scenario, working in a professional venue with professional artists. Hands-on experience with a DiGiCo SD7 is a fantastic opportunity, which is why we were very pleased to welcome the e-audio OB truck back again this year.'
Owned by Australian producer/engineer Ernie Rose, the OB truck's SD7 was used to mix the performances for internet broadcast and a subsequent 5.1 surround DVD release.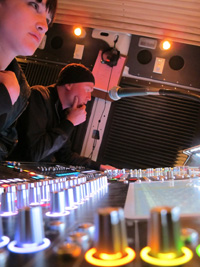 The vehicle took a separate split from both stages – 26 lines from the main stage, 20 from the side stage and five audience mics – to the SD7 via Madi, which were then routed to a Pro Tools recording rig and Steinberg Nuendo back-up system via SSL Madi Delta Link, with word clock lock between devices.
'The SD7 is an invaluable tool to give the students a chance to 'audition' and fine tune their settings during the sound check process, which can then be stored and recalled ready for the live event later in the evening,' says lecturer. Tim Johnston.
'With five bands playing, the ability to set up and store multiple snapshots on the SD7 for inputs, gain structure, compression, EQ and effects is fantastic. It gives the students a much better chance of getting their mixes as close to balanced and fit for broadcast as possible.'
The stereo mix from the SD7 was sent to an A/V facility where it was married with live pictures mixed from multiple cameras and sent via a 4G network for internet streaming. Later the individual tracks, which were sent pre processing from the SD7, were mixed on Pro Tools for the DVD.
'A key part of the exercise is the close collaboration between the Music Industry team and the A/V department,' adds Phillips. 'There are a number of other providers offering similar programmes, but RMIT has consistently had the highest number of graduates securing ongoing employment in the industry. Giving them the opportunity to work on a console like the SD7 plays a key role in that success and we are very grateful to Ernie Rose for helping us to make it possible.'
Further experience for the students came through having to integrate digital and analogue audio technology, as the Corner House still uses analogue consoles for its FOH and monitor mixes: 'Although the venue is expecting to upgrade to digital consoles next year, the current set-up pushed students to negotiate the inherent limitations, differences and overall workflow of both technologies within the one event,' says lecturer, Michael Pollard. 'Those performing the monitor mixes had to be particularly mindful of audio quality on the stage area to ensure that the record split was not affected by poor gain structure, feedback or microphone techniques.'
'The SD7 is a great learning tool for the RMIT students at Mavis,' adds alumnus. Allison Manefield, who has worked at Australia's major national network Channel 9 since graduating. 'Its ergonomic and straightforward layout is easy to grasp in a short amount of preparation time and all of the students who mix on it feel confident working on a high-end, broadcast-standard console.'