Train have steamed throughout North America with their California 37 tour visiting a variety of venues including amphitheatres, arenas and theatres. Delicate Productions of Camarillo and San Francisco handled the sound, using a system of 11 Martin Audio MLA boxes and one MLD (down fill) enclosures per side with 12 MLX subs. These were supplemented with 16 Martin Audio W8LC and six W8LM cabinets for side and front fill.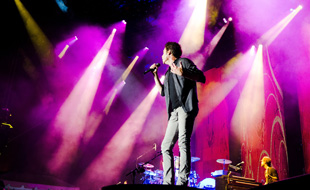 Delicate used DiGiCo SD10 consoles for both house and monitors, along with Martin Audio 5.2 amplifiers and Sennheiser G3 IEM personal monitor systems. The tour crew included Train's FOH engineer Rob Thomas and monitor engineer Rob Greene, along with system engineer Phil Reynolds and system techs Kenny Kaiser and Russ Cunningham.
Having already successfully used Martin Audio's MLA (Multi-cellular Loudspeaker Array) system with Selena Gomez, Delicate president Jason Alt reports: 'Everything has gone very successfully with the system. The only show where we had to add more boxes was Red Rocks where we went to 16 MLA per side instead of the usual set-up because of the size of the venue.'
Asked if different venues provided a challenge in terms of control and coverage, Alt replies: 'Not at all. The MLA system actually performs really well on every level in every kind of venue that Train has played. All of the reports we've gotten back from our crew about reactions to the system from the band and their engineers have been extremely positive.
'MLA is a really good solution, especially its small truck footprint that gives you a definite transportation advantage for tours that need every square inch of space they can get. The technology has really given us an edge because it is such a distinctive product in terms of its capabilities and flexibility. We feel MLA gives us a bit of an edge when we're bidding for new projects.
'Clients are starting to be very aware that the flexibility of the box and its controllability and rejection capability is what a lot of artists are looking for. With MLA, there's not a lot of energy on the stage, which makes it better for performers and improves the audience's listening experience.
'The MLA owners' network in the US has been a real asset as well,' he concludes. 'We've all been able to work together sharing resources, equipment and technical information, something which has proved to be a major benefit for every one of us.'
San Francisco-based, Train comprises a core trio of Pat Monahan (vocals), Jimmy Stafford (guitar) and Scott Underwood (drums). The band's albums include their eponymous 1999 debut, which yielded the Grammy-winning single 'Drops of Jupiter (Tell Me)' and Save Me San Francisco in 2009 with the catchy, ukulele-based 'Hey Soul Sister', a quintuple platinum hit and another Grammy winner.
More: www.martin-audio.com
More: www.digico.org