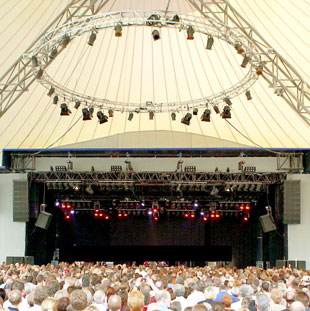 Running from July to September, his year's Museumsplatz Bonn music festival in Germany required event contactor Showtec to provide a sound system that would excite fans and satisfy sound engineers without breaking Bonn's sound level restrictions.
The 8,000-capacity concert area is partially covered by a tent and is surrounded by office buildings and residential areas, making volume and coverage control a priority. In response, Showtec provided a custom configuration of Meyer Sound loudspeaker systems featuring subwoofers in a cardioid formation that was subsequently described as 'a convincing showcase for how a loudspeaker system can achieve even, transparent audio coverage at an open-air event, while keeping the sound to designated audience areas and within limits'.
'Compliance with the legal requirements is our top priority,' Martin J Nötzel from the festival's promoter says. 'This is the only way to ensure the future of an open-air site in the middle of a city. An accurate sound reproduction is also important for the audience's concert experience. Meyer Sound and Showtec delivered on both counts 100 per cent.'
The system that is being used features two arrays of eight Mica line array loudspeakers each, four UPJ-1P VariO loudspeakers as frontfill at stage lip, and one UPA-1P loudspeaker as out fill. Six MSL-4 loudspeakers are used as underfill while two arrays of four 700-HP subwoofers in a cardioid formation provide controlled low-end support. 'We are using MSL-4s to cover the first 12m of the audience while the remainder is covered by Micas,' says Helge Schäffer, the event's sound engineer and designer. 'Together with the 700-HPs in a cardioid set-up, we are able to target the sound towards the audience only. The audience experiences clear and powerful sound, the musicians have less low frequencies on stage and we have also successfully avoided spilling sound towards the residential areas.'
With the consistency and predictability of Meyer Sound's low-distortion subwoofer products, Showtec specified a configuration that has allowed them to steer sound where it is needed and avoid all unwanted areas and surfaces. The result is confirmed by Bonn's authorities, who stated that the Museumsplatz concerts are within the city's decibel limits.
This year, the Museumsplatz concert line-up includes Norah Jones, Buena Vista Social Club, Billy Idol, Status Quo and Roxy Music.
More: www.museumsplatz-konzerte.de
More: www.showtec.de