Professional Audio Technology has delivered two large DIS (Danish Interpretation System) conferencing systems to Integrated Media for installation at Adelaide City Council.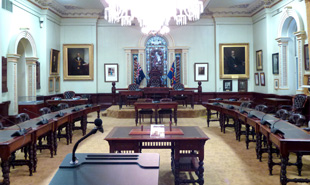 Adelaide-based Integration company and acoustical specialist Integrated Media installed one DIS system for the Adelaide City Council Camber, consisting of a CU6005 Central controller unit, a DC6990P chairman unit with touchscreen controls and 18 delegate conferencing units, plus two handheld microphones for speakers in the public gallery. A second,, virtually identical DIS system was installed in the Adelaide City Committee Room.
Adelaide City Council Capital Works and Infrastructure Project Manager, Josh Axton thanked Integrated Media 'for a job well done'. 'I am extremely impressed with not only the DIS system Integrated Media have provided but also the way they have gone about the installation,' he added.
Close cooperation between Professional Audio Technology and Integrated Media assured that all technical and delivery timelines were met: 'DIS is delighted that we are winning such prestigious jobs with our technology, which is due to the outstanding local work of Integrated Media who were responsible for the installation and our distributor Professional Audio Technology,' says Kim Muurholm Jürgensen, DIS Sales Manager for the Asia-Pacific region.
Danish Interpretation System conferencing systems are becoming a regular sight at high-profile Australian venues, including recent installations by Newcastle University and the Queensland Parliament.