Once a small, one-day event, Belgium's Pukkelpop Festival is nowone of the biggest in Europe, attracting more than 180,000 to see the likes of The Stone Roses, Foo Fighters, Bjork and Eagles of Death Metal.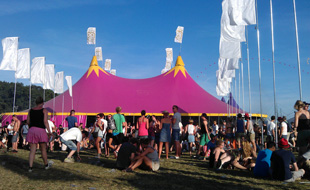 EML Productions have been behind the sound for the festival since the early days. This year saw all eight stages of the mammoth three-day event powered exclusively by Lab.gruppen amplifiers: 'We first started using Lab.gruppen when we decided to change our systems some years ago,' says Patrick Demoustier, EML Chief of Sound. 'We did some careful A/B testing and comparisons and ended with an Adamson Y18 rig.
'There was only one company in Europe who were using it at the time, a French company, and they used Lab.gruppen amps. We had a demo with Lab.gruppen and were very happy with the results, so we decided to stay with the same amplifier and we have never regretted it. It's a very reliable amp. We have added a lot more to our inventory, and in all that time, very few have gone to the repair shop. It's just a very good product.'
At Pukkelpop, EML Productions (now part of the PRG Group) used three types of rack, featuring the tour-honed fP Series and the flagship PLM 20000Q – the world's most powerful amplifier platform.
EML's A Rack comprises two Lab.gruppen fP 6400 and an fP 3400, with the fP 3400 for the highs and the 6400s for the mids and lows. The company also used an Adamson SpekTrix rig (mini line-array) with a rack of three Lab.gruppen fP 2600, while the monitor rack houses four fP 3400s.
'We do the main stage, which is a big set up,' Demoustier reveals. 'There are 32 Adamson Y18s as the main system and 16 Y18 as out fill, together with 40 subs, 16 in a cluster configuration, the rest on the floor. The Marquee and Dance stages are similar set-ups using an LR main cluster. One stage uses six PLM 20000Qs per side, and the other stage is the fP Series – fP 6400 and fP 3400. The Wablief stage is a small stage, so we use the mini line array system there, and that is being driven by 12 fP 2600 Series.'
The fP Series amplifiers have a hard-earned reputation for reliability and high audio performance, making them an obvious choice for a busy touring company like EML. The two flagship models, the fP 6400 and fP 3400, were the first to use Lab.gruppen's proprietary class-TD output stage, a patented technology that combines the efficiency of class-D designs with the sonic purity of class-B topologies.
'In total, we have used around 400 amplifiers on this site, and had no failures so far,' Demoustier says. 'Put simply, an amp just has to work. It has to sound good of course, but if you have problems with your amplifiers, that's the end of the show. It's a workhorse, and it should just work.'
His enthusiasm for Lab.gruppen extends beyond the fP Series, having used a number of Lab.gruppen PLM 20000Qs with Lake processing for Pukkelpop: 'I think it was a good move for Lab.gruppen to choose to work with Lake, because Lake is seen as the best software for controlling amplifiers and crossovers, so that relationship, and the fact that the products work from Day 1, makes it a very compelling choice for rental and sound companies.
'If we have to buy new amplifiers it will be the PLM, there's no doubt about that. The combination of Lab.gruppen with Lake Processing is just the best.'