Modern Touch Entertainment has been named the exclusive distributor for Powersort in Egypt. 'With its strong technical background and very professional approach to the market, Modern Touch is the right partner to bring Powersoft amplifiers to the dynamic Egyptian market,' confirms Steve Smith, Powersoft Touring Account Manager.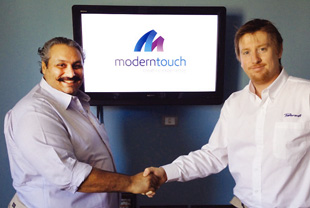 Established as an event organiser, Modern Touch has built a solid reputation for providing high-quality solutions for pro audio and other entertainment markets through its collaborations with leading sound and light manufacturers.
'Powerful, high endurance under tough operating conditions and competitive prices are the factors that my team and I have been looking for,' says Modern Touch GM, Magued Makram. 'It took three years of market research and brands comparison before I met Steve Smith at Powersoft during the Frankfurt Pro Light & Sound exhibition in 2012. I believe that we are introducing a unique product to the Egyptian Market. Powersoft is a great deal for our Customers.'
'Powersoft makes outstanding products,' adds Modern Touch Technical Support Director, Bassem Fahmy. 'To get this amount of power from a 1U-high rack unit is remarkable, and with the built in DSP and the flexibility of the Armonia software, Powersoft offers the perfect solution for every application. The support from we get from the Powersoft team is truly amazing. I am looking forward to this great partnership'.
Distribution has begun, with a series of demos and seminars set to take place around Egypt. For more information, contact Magued Makram.
Contact:
This email address is being protected from spambots. You need JavaScript enabled to view it.