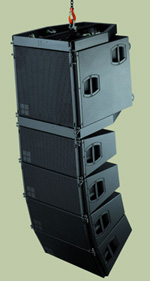 London rental company Entec Sound & Light's Audio division expanded to its substantial d&b audiotechnik hire stock with the new V-Series line array system. The purchase includes V8 and V12 loudspeakers (with 80° and 120° dispersion) and V-Subs.
Entec' audio Sales Manager Peter Codron believes that the V-Series is the ideal system to service Entec's medium to large shows, and can also be used as delay or fill arrays in conjunction with the larger J-Series, due to the tonal compatibility between the two systems.
Two of the three-way V-Series passive cabinets can be run from a single amplifier channel, so four can be powered per D12 amp, making it an extremely cost-effective choice. The V-sub features a cardioid arrangement, with a front facing 18-inch driver and a side exit 12-inch driver that radiates to the rear – described as 'very clever German engineering' by Codron – to cancel output behind the box.
'd&b has used Q and J series technology to produce this remarkable system,' he says. 'It's absolutely perfect for all types of live performances.'
The physical size (around two thirds that of a J-Series cabinet) and low weight (34kg per cabinet) is a hit with crews, and helps towards economical transportation.
'We are really excited to add the V-Series to our hire stock,' says Codron, 'We have a great demand for it, and a whole diverse range of shows and events on which it will be used'.