Nicolas Kyvernitis Electronics Enterprises has supplied a Midas Pro6 digital live audio system to the Abu Dhabi Heritage Theater.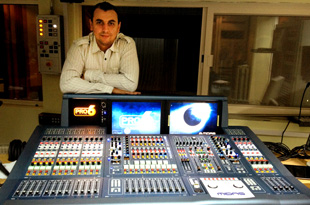 After meeting the Midas technical team at the CabSat earlier in 2012 and attending a Certified Midas Digital User and Systems Engineer course in May, the theatre staff settled on the Pro6 as an upgrade to the venue's existing sound reinforcement system.
'The Abu Dhabi Heritage Theater is an iconic venue in the capital of the United Arab Emirates, says Chicco Hiranandani, Business Development Manager at NMK. 'Many community events are hosted in this venue and now the technical team can manage these shows with an excellent digital platform.
'With the installation, the theatre joins other venues that include the Raha Theater also in Abu Dhabi, the Qatar National Theater in Doha and the Royal Opera House in Muscat, Oman that have implemented Midas solutions for their reliability, redundancy and, most important, audio quality.'
More: www.nmkelectronics.com