Headquartered in the Malaysia's Petaling Jaya – hub of the New Life Group of Churches – the New Life Restoration Centre has installed a Soundcraft Si Compact 32 digital mixing console to serve the requirements of running services for two distinct congregations – one English speaking, the other Mandarin.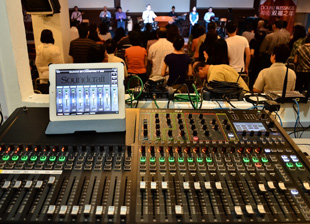 The church conducts two Sunday services in English, with around 450 people attending each service, while around 400 members of the congregation are welcomed to the Chinese service.
According to New Life's Media Executive Vince Seah, the Soundcraft desk is central to a new technical set-up, as a series of source feeds need to be mixed, including the pastor mic, live and recorded music: 'For our sound engineers to mix three live worship sessions, with different groups of musicians in a single weekend was just too much for our old desk to take,' he says. 'We were taking hours to sound check and sometimes had to forego this entirely, which often ended up with bad mixing.'
After 20 years working with an analogue desk, the church was directed to Soundcraft by local dealer, AVF Trading. 'After several meetings, they convinced us that the Soundcraft Si Compact 32 would solve our problems, based on the quality of the product, Soundcraft's excellent reputation and good after sales support,' Seah says.
He reports that all 32 channels and eight auxes were currently being used, adding that New Life had immediately recognised the advantages of the Si Compact 32. In particular, he highlighted a number of features, including the multi presets, motorised faders, generous aux and bus capacity, quick response, recallable show settings and compact footprint.
'The Si Compact 32 has been an excellent purchase and represents good value for money within the budget,' he adds. 'As our first digital mixer it is providing us with a lot more than we anticipated and will enable our technicians to improve their abilities and indulge in more creative mixing.'