A legend among film soundtrack fans, composer Ennio Morricone took his music on the road in 2001. Aged more than 70 and with a 50-year catalogue that includes Sergio Leone's Dollar Trilogy, Sacco and Vanzetti, Cinema Paradiso, The Untouchables, Once Upon a Time in America and The Mission, it has proved a popular move.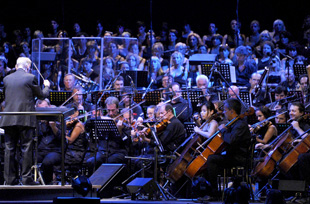 So far, he has visited Radio City Music Hall in NYC, Verona Arena, London's Royal Albert Hall, the Kremlin, the Vatican's Nervi Hall, the UN General Assembly and St Mark's Square in Venice.
For a recent concert staged on Rimini promenade – in a square named after Federico Fellini – Morricone's long-time FOH and recording engineer Fabio Venturi and monitor engineer Andrea Tesini helmed DiGiCo SD7 consoles, mixing genre-crossing music performed by an orchestra, rock band, chorus and solo soprano. 'My aim is to get as close to the sound audiences heard when they saw the films as Morricone uses the original orchestrations,' Venturi explains.
With 110 audio channels being fed from the stage, the SD7' recall facilities enable sessions to be prepared offline, and recorded shows to be used for virtual soundchecks. 'We only have an hour with the orchestra,' Venturi says. 'Plus the console's great flexibility and small footprint greatly facilitate use and transport.'
Venturi had previouslt used the SD7 for a convention and a musical. 'I've used the D5 for years, so my experience with its software stood me in good stead,' he says. 'The features I appreciate most on the SD7 include the large number of inputs and the amount of layers that have been implemented, enabling really practical organisation of the various orchestra sections. Plus, the top-grade multiband compression and the EQ section, which is outstanding and extremely intuitive to use.'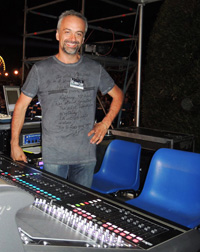 To ensure good monitor facilities for the performers, Tesini uses a 'hybrid' system: 'For years, I've used a large number of small loudspeaker enclosures among the orchestra musicians, headphones for band members and wireless IEM for the rhythm section. The Maestro, soprano and pianist use monitors and the chorus, normally 100-strong, has four enclosures per side.'
The challenge of such a complex set-up is in the numbers – 112 channels for orchestra mics, plus 13 service channels and reverb returns. Tesini uses 35 sends, 24 groups and eight matrices.
'The SD7 allows me to organise the work using all the desk's internal resources – I use 24 groups for the premixes and reassign them to the inputs to accelerate mixing, then use 35 auxiliary sends with the possibility of equalising and aligning them with FOH. Not to mention the onboard effects – the hall effects are really nice.'
This isn't Tesini's first outing with an SD7, either: 'I used it at the Kremlin and found my way around it immediately, as I'd used the D5 for ages,' he reveals. 'It's very versatile and intuitive and enables me to rapidly reorganise, move, add or remove anything coming in or going out – the audio processing is top-grade, the filters precise and the dynamics are really effective.'
Audio contractor for the show was Agorà of L'Aquila, one of Italy's leading rental firms. Wolfango DeAmicis, who runs the firm with brother Vittorio, considers the stock of consoles bought during their long-standing relationship with DiGiCo sufficient proof of their opinion of the products.
'We have six SD7s, six D5s, two D1s, four SD8s and two SD9s and are about to purchase four more SD7s. We host regular hands-on training sessions for sound engineers at our HQ, with DiGiCo experts, and are also ably supported by Italy's distributor, Audio Link.'
'When we're involved in orchestral, operatic or classical music events, we use systems able to ensure amplified sound is as natural as possible, and we also have a lengthy experience in mixed genres, dating back to the Pavarotti & Friends shows, where we fielded our DiGiCo desks for the first time,' Vittorio adds.
More: www.digico.org