An icon of the Mexican Catholic Church, the Los Angeles Memorial Coliseum attracted approximately 75,000 visitors for the 'largest celebration of the Virgin Mary in a generation', recently.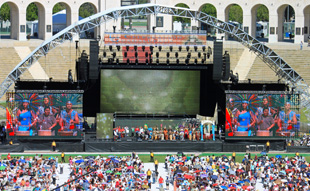 Honouring Our Lady of Guadalupe, the event made great demands of the supporting audio system. In reply, 7F Audio called on DAS Audio's Aero Series 2 line sarray and and Road monitors. 'This event was sponsored by the Knights of Columbus in conjunction with the Archdiocese of Los Angeles and the Instituto Superior de Estudios Guadalupanos and, each year, it attracts a huge crowd,' saus Luis Muñoz, owner of 7F Audio. 'The event was produced for the Knights of Columbus by Michael Macari from EVTV and locally, by John Semerdjian from Watermark Event Management.
Filling the LA Coliseum with clear, consistent sound required a large number of Aero 50 large-format line array enclosures, Aero 12A mid-high line array elements and Road 12A monitor wedges. Specifically, the system Muñoz and his crew assembled comprised 12 Aero 50 enclosures plus three Aero 12As that served as down fill for each side of the main stage, while the primary out fill used another 16 Aero 50s – eight per side. Additionally, eight Aero 12A enclosures per side were used for secondary out fill.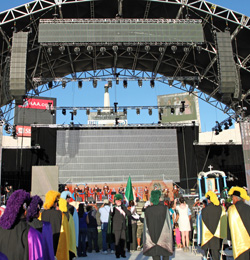 On stage were four Aero 12A enclosures per side for side fill and another four Aero 12As across the front of the stage for front fill. Positioned approximately 330 feet out from the main stage, the 7F Audio crew placed two delay towers – each loaded with eight Aero 50 enclosures. Crown Audio i-T12000 HD power amps drove the Aero 50 enclosures.
'I am continually impressed with the sound quality of the DAS Audio Aero Series 2 loudspeakers,' Muñoz says. 'For a venue the size of the Coliseum, the Aero 50s have great throw and broad horizontal dispersion. The system we built provided clear, natural reproduction throughout the audience areas. I was also very impressed with DAS Audio's customer and technical support services. Carlos Henao was a tremendous resource and actually came on site to help ensure everything went according to plan.
'The event featured prayer, music and dance, as well as remarks from Archbishop José Gomez of Los Angeles and several other religious leaders,' he adds. 'The music sounded terrific through the system and, when people spoke, you could clearly understand every last word. The people who attended were really enthusiastic and complimentary about the quality of the sound they heard.'