Following a seminar for its system users in 2011, Italian loudspeaker manufacturer LSS Advanced Speaker System held a further event recently to appoint an exclusive distributor for the company in Asia.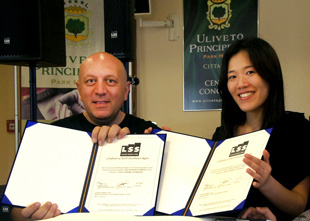 The seminar and demo took place at LSS headquarters in Calabria, Italy, and was arranged specifically for SPC (Sound People Company), based in South Korea.
No newcomer to the Asian pro audio scene, Yena Ko established SPC earlier in 2012. 'I have never had like this kind of demo before – especially with a live band,' she says. 'It was cool because, when you check a sound system with a CD, it is easy to miss some of the demands of real-world use, but with the band we could check many of the speakers' characteristics.
In all, SPC spent two days evaluating the LSS systems and discussing terms for the distribution arrangement.
'On the first day, we had a seminar on point source speaker systems. There was some kind of products prepared to test. With the speakers we had a great seminar by Toni Soddu. In the evening we could enjoy a concert with great sound using HDA24 and ST17 line arrays with SB17 subs, and the TREX two-way point source system. We were able to check the sound from different speaker system. All the systems were powerful with no distrotion. It was very impressive.'
The flown demonstration system used eight HDA24s at each side of the stage with four ST17s and a single SB17 per side. The TREX system was stacked at the side of stage with SUBTREX and HPS246. 'The sound was pretty powerful and impressive,' Ko reports.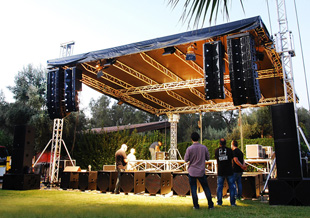 Octo18s (18-inch single) and Octo21s (21-inch single) provided the bass. 'It was very flexible, a cardioid with single subwoofer,' Ko says. 'In addition to the cabinet is very compact even though the sound is pretty powerful.'
The second day involved a concert performance of traditional Italian guitar by Francesco Loccisano. 'I have seen his playing on youtube but it was the first time I has heard him play – the sound was very clear and soft,' Ko says. 'He played in front of speaker system and the sound was picked by condenser microphone but there was no feedback.'
From there is was back to the test bench: 'We tested each of speaker system in the conference room with DSP also without DSP. Most impressive was that the small speakers and large speakers have the same quality of sound. Speaker has great clarity and I can see the sound image on my head exactly.
'This experience was very special to me,' Ko summarises. 'SPC was founded in July 2012 and we are pleased to sign with LSS as exclusive Asia distributor. LSS also did a great job with the party – I've been in audio industry for 15 years and I never seen such a great demo with the live band. I'm looking forward to the next demo.'
More: www.soundpeoplecompany.com
More: www.lss.it