London-based Orbital Sound has opened a new programming suite. Part of Orbital's expanding studio complex, the new facility offers sound designers, producers and engineers a relaxed programming environment.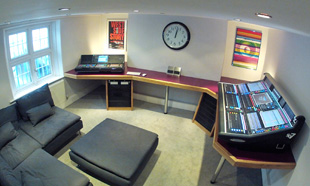 A leading sound and communication systems specialist for the theatre, event and broadcast markets, Orbital Sound has a long-standing programme of investment in new facilities, as MD Chris Headlam explains: 'We originally created our studio complex with the aim of providing a fully-equipped working environment for creating sound effects, click track and voiceovers, and it has been hugely popular since it opened.
'The new programming suite is a natural extension of this, designed as a welcoming and comfortable space, with the bonus that it is furnished with some of our latest mixing consoles to give users a chance to try them out at their leisure. It's all about providing an enhanced service that supports the creative process – something that we all appreciate in this demanding business.'
Located in Orbital's basement, the Studio Complex includes a large soundproofed vocal area, the new programming suite, plus access to lounge and kitchen areas.
The studio itself features a comprehensive Pro Tools system with a Digidesign Control 24 surface feeding a Genelec surround monitoring system. The choice of outboard electronics is culled from Orbital's extensive warehouse-based rental stock, with standard fixtures including Avalon channel strips, Lexicon reverbs, Neumann microphones and TL Audio valve preamps.
Multitrack options include CSC, Nuendo and Qlab software, as well as a Revox B77 reel-to-reel tape machine as a reminder of the past. The Studio Complex is fully supported by Orbital's in-house technical support and sound design team, and users have full access to Orbital's vast online sound effects library.
More: www.orbitalsound.com