A new acoustic system in its principal performance and rehearsal space has given the Berkeley Crowden Music Center greatly improved facilities for music ensembles in San Francisco's Bay Area and its students.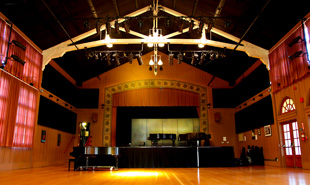 'The original physical acoustics were fine for a school auditorium,' says Michel Taddei, Crowden's Director of Artistic Administration and principal double bassist for several area orchestras. 'But as we've grown into a musical hub, with so many others using the facility, the fixed acoustics were not adequate for the wider range of demands.'
Central to the development is a Meyer Sound Constellation acoustic system.
Taddei cites the Oakland East Bay Symphony, which often uses the auditorium floor as its rehearsal stage, to illustrate the improvements: 'Before, it was a bit too loud and boomy for a group that size. Musicians were distracted by the room's sonic build-up. Now, with the acoustic treatments and Constellation, they are delighted with the room's sound and will be back on a regular basis.'
The Crowden Music Center's programmes encompass The Crowden School, an independent day school, and the Crowden Center for Music in the Community, which supports classical music in the Bay Area by hosting performances and rehearsals, and also by offering classes, private lessons, workshops, and summer camps.
Formally titled the Jacqueline and Peter Hoefer Auditorium, the intimate venue holds an audience of about 200 in flexible seating for small ensemble, choral, and chamber orchestra performances on the stage. In this same space, performers often share the open floor with the audience, or the entire floor becomes a rehearsal stage for a full symphony orchestra. Also, the auditorium must adapt to an exceptionally diverse range of ensembles and music styles as it hosts both its own students and a packed calendar of programs for the local community. As a result, for such a modest facility, the acoustical requirements are extraordinary.
To meet Crowden's requirements, a controllable baseline acoustic was created through physical treatments. The Meyer Sound Constellation team then designed an active acoustical system adaptable to the full range of demands. Constellation here is split into two zones – upper and lateral – and employs the VRAS variable room acoustic system hosted on a D-Mitri digital audio platform to create a precise mixture of early reflections and late reverberations across five acoustic presets: speech, chamber, opera, symphony and choir.
The system was installed by San Francisco-based integrator Bug ID, and includes 29 Meyer Sound miniature MM-4XP and directional MM-4XPD loudspeakers, 14 MM-10 subwoofers and 24 microphones.
'In our after-school programmes, it's invaluable to be able to easily provide the proper acoustics for the smaller chamber ensembles as well as the large symphonic orchestras,' says Doris Fukawa, Executive Director for Crowden Music Center. 'For our young students, Constellation allows them to become more aware of any acoustic space they play in and then learn to adapt to these environmental factors.'
The Jacqueline and Peter Hoefer Auditorium is currently still under renovation, with a grand reopening scheduled for autun 2013. The renovation is designed by Donn Logan of Marcy Wong Donn Logan Architects, the Berkeley-based firm behind the AIA Citation Award-winning Pearson Theatre at Meyer Sound's headquarters.
'Since I served on the Crowden Board for several years, it has been a treat for me to see this system installed in Crowden's Hoefer Auditorium,' Logan says. 'Given Crowden's diverse array of performance and rehearsal requirements, Constellation is the only solution that I know of that could have solved its acoustic needs.'
More: www.meyersound.com