Italian loudspeaker manufacturer Outline and its US subsidiary, Outline North America have struck an agreement with the Production Resource Group (PRG), one of the largest production services companies presently operating in North America.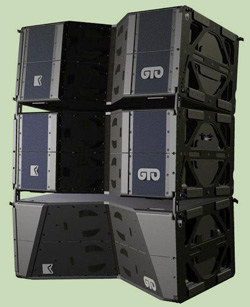 PRG handles all aspects of live event presentations – lighting, video effects, scenery and sound – for Broadway productions and major live television presentations that include the Academy Awards. The company also provides audio systems, stage design and lighting systems for major tours and events such as the Super Bowl half-time show.
The immediate result of this new relationship will be a turnkey system of Outline GTO, GTO-Subs, Butterfly, Mantas, DBS18-2 Subs and recently introduced LipFill-0182 that will be held at PRG's expansive Las Vegas facility, the hub of its touring sound business.
A joint launch of the GTO and Outline partnership is planned to coincide with the forthcoming LDI Show and Parnelli Awards in Las Vegas. Here, a Stageline Mobile Stage with full Outline GTO rig will be set up on the grounds of the PRG complex.
'The timing could not be better to announce this relationship,' says PRG VP, Tim Brennan. 'Many of our clients, production managers and contemporaries with whom we have a professional trading relationship will be in town for LDI. This is the perfect opportunity for us to introduce them to the quality and unique engineering expertise of Outline and its GTO.'
'This comes at a very exciting time for our company, as we continue our global growth initiative with the addition of many of the world's largest premier sound and production companies,' says ,' adds Outline CEO, Giorgio Biffi. 'PRG is a wonderful and welcomed addition to our family of Outline partners.'
Outline's agreement with PRG accompanies another with of Gabisom, the largest production company in South America, reinforcing the profile of Outline and its GTO systems around the globe.
The GTO series of line array speakers features Outline's proprietary Butterfly design. When coupled in an array, GTO's V-shaped front baffle allows individual sound sources to be positioned much closer together than in conventional line-source systems, claiming superior acoustical coupling between high-frequency modules, and a smooth, extended HF response. It also creates an 'unbroken baffle' shape through an array, which minimises diffraction of the mid-high frequencies, contributing to the far-field performance of the system.
'I have seen the incredible growth of PRG over the years and am very pleased to have them help lead the charge for our large-format line array, the GTO, in the US,' says Outline's North America Sr. Vice President, Partner and MD, Tom Bensen. 'We appreciate PRG's confidence in our company and their shared vision for the future as we begin this relationship.'
More: www.prg.com
More: www.outline.it