Bringing Andrew Lloyd-Webber's classic musical to some of the UK and Ireland's biggest stages, Laurence Connor's contemporary production of features former Spice Girl, Mel C, comic singer Tim Minchin and former Radio One breakfast show host, Chris Moyles. It's tour schedule takes in a number of sizeable venues including Liverpool's Echo Arena, Wembley Arena, and Dublin and London's O2 Arenas.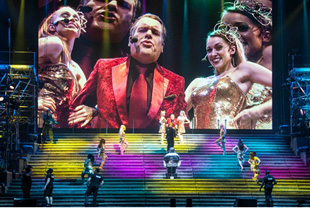 With a sound system supplied by SSE/Canegreen, there are 60 AKG C544L headset mics for the case, whiele monitor duties fall to a DiGiCo SD7 digital mixing console.
'My reason for using an SD7 is simple, really – it is literally the only console that can handle a show like this,' says monitor engineer, Seamus Fenton, who runs 110 channels from the desk. 'Being a theatre production, there are so many vocals to deal with, and this console handles that situation absolutely perfectly.'
Initially, Fenton wanted all cast members to use in-ear monitors. However, when they got into into production rehearsals, he realised he needed an alternative plan of action: 'Musical theatre is a very complicated genre to work with, to be honest – they sing one line, then they're part of a crowd, and sometimes when they're coming off stage, they're still nattering away,' he says. 'These reasons combined meant I wouldn't be able to put everyone on IEMs as I'd originally intended, so I brought in another pair of hands to help me out.'
The 'new pair of hands' constituted an additional monitor engineer with his own console. This meant the SD7 became the complete hub of the operation, taking care of the nine principle vocalists and all band members, and also sent feeds of everything else to the second engineer to enable him to create side fill mixes for the rest of the cast.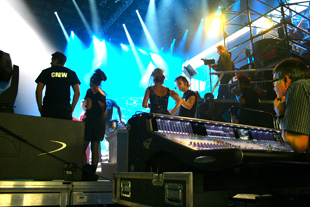 'This was the best way to do the job, as it meant the nine main vocalists could remain on in-ears, which is what I really wanted,' he says. 'It meant I could also look after the band properly – I just send a sub-mix of all of the vocals and the band to the second console, and from there he manages the ensemble.'
Another bonus in the set-up was the fact that all of the band members use Aviom Personal Monitor Systems, which plays into the SD7's hands: 'The fact that the SD7 has Aviom cards is absolutely fantastic, because I can just send those Aviom mixes directly to the band,' Fenton explains. 'There's nothing else out there that enables me to do that.
'I have always been a DiGiCo fan, but it's not just for the channel count and the amount of inputs and outputs you can achieve; the desk has far more to offer than that.'
Supplied by AKG's UK and Eire distributor Sound Technology, the microphones were chosen after a shoot-out organised by SSE: 'I arranged for the best current offerings from all the major microphone manufacturers to be set up and tested through a smaller version of the show's touring sound system,' SSE Audio Group Director, Yan Stile explains. 'They were looking for sonic performance, stability during head movement, ease of mounting and durability; and after a full day's testing, the unanimous choice was the AKG C544L. We also did a blind test with a number of other experienced engineers, and the result was the same.'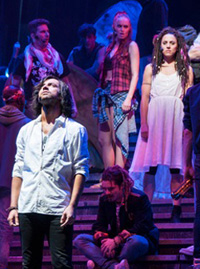 The show's dance and acrobatic routines required the mics to be optimally positioned at all times, regardless of head movement. Monitor Engineer, Seamus, says the C544L was the perfect choice.
'We did A-B tests with about 12 different microphone models, and the C544L came out on top – none of us had ever heard one in action before, but we soon realised what an amazing mic it is,' says Sean Fenton. 'Literally everyone is using one on this show, and the sound it puts out really suits the production too; it was certainly head and shoulders above the rest in all departments.'
'It was very much a production decision to go with the AKG mics,' confirms AEG's Keith Wood, production manager for the show. 'Because this is essentially an arena rock show, we realised we needed a head-worn microphone that would be more roadworthy and provide a greater output level and better off-axis rejection than some models currently favoured in musical theatre.'