Alongside its opera, musical and ballet prduction, the Vienna Volksoper is the only concert house in Vienna that present stages operetta productions. When the 1898 building undertook improvements to its fire alarm systems, it seized the opportunity to renovate and modernise its digitally audio control rooms. For the recording control suite, the Vienna Volksoper chose a mc²56 mixing console from Lawo.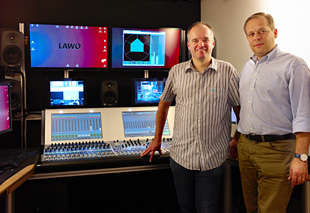 The opera season that runs between September and June sees around 300 performances of around 35 productions in the venue's 1,337-seat repertory theatre. These range from Die Zauberflöte (The Magic Flute) and Tosca to musicals such as My Fair Lady and the Max und Moritz ballet.
More than 150 singers, a 95-strong orchestra and 100 dancers are regularly part of the ensemble. This places high demands on the audio technology with regard to size, flexibility and quality, and these same demands impact on the recording control room.
The Lawo mc²56 ²56 replaces an earlier digital mixing console in the control room and has to communicate perfectly with an already installed digital console for PA purposes. The desk is fitted with one HD core and one Dallis frame for the recording control suite, and offers 32 faders (16-16C) and 96 DSP channels. The router has a capacity of 8,000 x 8,000 crosspoints with redundant power supplies.
Despite using equipment from different manufacturers, the refitted control room can share audio signals with the venue's second control room: 'Between PA control room and recording control room there is a connection – mainly via Madi, although we have analogue lines also,' explains Martin Lukesch, Head of Audio and Media Technology at the Volksoper Wien. 'Also, OB vans can be supplied via Madi and via analogue connections.'
The technical department of the Volksoper devoted 18 months to researching the best equipment for the refit. The team went to trade shows, gathering information from many manufacturers of mixing consoles. All manufacturers on the shortlist agreed to supply their mixing consoles for testing. After a trial run under real-word conditions and assessing the quotes, the mc²56 from Lawo emerged as the preferred choice – Lawo came closest to the concepts of the Volksoper Wien and proved a reliable and professional partner.
'The system's flexibility with regard to mechanical built and the free configurability played a decisive role, just like the clear design and intuitive operation of the mixing console as well as the excellent sound,' Lukesch says. For example, the size of the metering displays and the number of summing displays can be freely selected. 'And, last but not least, because of the sophisticated surround mixing options including upmix did we decide for the Lawo mixing console,' Lukesch adds.
To date, the mc²56 has been used for recordings of Ein Walzertraum (A Waltz Dream), Salome, Die Entführung aus dem Serail (The Abduction from the Seraglio), La Traviata and Tosca.
More: www.lawo.de