Recently completed, London's St James Theatre can claim to be the first newly built theatre complex in the city's centre for 30 years. Designed as an off-Broadway venue for show previoews and devlopment before to moving to the West End, the complex houses a main 312-seat theatre and smaller 100-seat studio theatre, as well as a brasserie and lobby bar.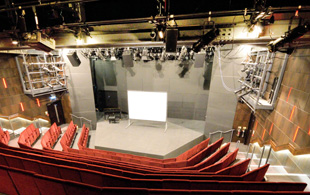 While the architectural design is by by Foster Wilson Architects, the sound design for both theatres was handled to Mathew Smethust-Evans of London-based consultancy firm, Theatreplan, who specified an EM Acoustics loudspeaker installation throughout.
Smethust-Evans worked closely with the theatre Technical Manager, Nick Butler (previously at the New Wimbledon theatre) to coordinate the design and implementation, and was satisfied with Theatreplan's recommendations.
'We opted for EM Acoustics systems for a number of reasons, not the least of which is the impeccable reputation of both the company and its products in the theatre world, ' Smethust-Evans explains.
'The second big reason is ease of use. The philosophy of well-designed passive loudspeakers suits adaptable venues like the St James Theatre who require quick turnarounds between shows and formats. The plug-and-play approach is extremely efficient.'
Theatreplan specified a proscenium LCR system of EM Acoustics MSE-159 two-way, medium -format passive loudspeakers for the main theatre with three EMS-61s as delays.
'The MSE-159s can be moved to different rigging points around the proscenium as the stage format changes from end stage to thrust,' Smethurst-Evans exp[lains. 'Unfortunately, the budget pressures meant that the subs had to be omitted from the design but they can easily be added to the installed infrastructure at a later date, and hired in for certain productions in the meantime.'
The Studio Theatre has a pair of MSE-159s as a main PA with a single EMS-81X compact full range loudspeaker for balcony fill. Smethurst-Evans recalled that the size and shape of this venue made the job of loudspeaker selection a challenge. 'To make things even more complicated, the stage doesn't have a fixed position,' he says. 'We decided, therefore, to keep things as simple as possible; stands and rigging were provided for the MSE-159s to give a choice of mounting positions – either hung from the overhead grid or stand-mounted next to the stage depending on requirements. That way we keep everyone happy…'
Smethurst-Evans regards the breadth of the EM Acoustics range as an asset when tailoring solutions to venues: 'The approach we decided upon for the theatre, given the budgetary restraints of the project, was to provide a high quality base system that could be added to as required.
The range is ever-expanding,' he says. 'Mike [Wheeler] and Ed [Kinsella] seem to be able to identify a need for a new loudspeaker and then produce something that not only fits the bill but also sits perfectly within the existing range.
'Finally, there is the sound quality. All EM Acoustics products deliver great sound quality and they are still improving, which is wonderful. They also represent excellent value for money, enabling us to deliver a great-sounding and cost-effective solution.'